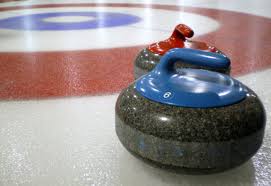 NEWS RELEASE
SAULT COLLEGE ATHLETICS
*************************
Friday was "moving day" at the 2014 OCAA Curling Championships at Soo Curlers with teams looking to separate themselves from the pack and position themselves positively going into the last day of round robin play Saturday.
In the mixed division, Humber led by skip Kyle Mills looked to stay undefeated and didn't disappoint as they won both contests to sit 3-0 heading into the last day of round robin.
Kyle Hinsken's Algonquin squad as well as Mohawk's Wes Steen rink sit tied in second at 2-1.
On the women's side, the host Sault College Cougars led by Megan St. Amand sit at 4-1 joined by Megan Van Huyse's Seneca Sting and Shannon Kee's Fanshawe Falcons in a three way tie for first.
Mohawk College sits second with a 3-2 record with two draws left to play.
Both Chris Glibota's Sault rink and Kelly Schuh's Fanshawe squad are atop the leaderboard in men's; both teams sport 4-1 records and still have to play each other on the last draw of the round robin.
They are followed closely by Fleming, Humber and Mohawk with 3-2 marks as the ultra-competitive men's division will play two draws Saturday.
Action heats up on Saturday as all teams are still vying for playoff spots and a coveted place in the medal rounds.
All draws are held at Soo Curlers and live end by end action can be found on the Cougars website at www.saultcollege.ca/services/athletics or follow competition on Saultsports.com.
Top teams from this week's provincials will qualify for the Canadian Collegiate Athletic Association National Championship hosted by Sault College March 19-22 at the Soo Curlers Club.
For information on CCAA Nationals contact Sault College Athletics at athletics@saultcollege.ca
*************************