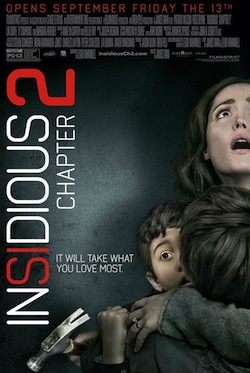 The following movie review was submitted by SooToday.com contributor, Will Youngson.

Insidious: Chapter 2

2013 was a good year for horror films, and Insidious: Chapter 2 is one of the year's shining examples.

Too often, sequels fail to live up to the expectations set by the original, but Chapter 2 meets, if not exceeds, its predecessor in both scares and story.

The film picks up right where the first instalment, 2010's Insidious, left off.

Josh and Renai Lambert (played by Patrick Wilson and Rose Byrne) and their children continue to be haunted by the dark forces surrounding the family, and make efforts to separate themselves from these spirits once and for all.

The incomplete story from the first film is concluded in a way that left me very satisfied, and is a far greater example of horror storytelling than most films of a similar nature.

If you have seen the first Insidious, I urge you to watch this film as it gave me a better appreciation for the first film.

If you haven't seen either film but consider yourself to be a horror fan, I cannot recommend these movies enough.

It takes a lot to creep me out, and the Insidious series pulled it off with a story that's spookier than most.