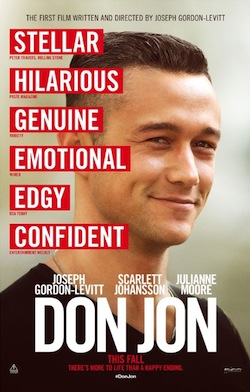 The following movie review was submitted by SooToday.com contributor, Will Youngson.

Don Jon

Joseph Gordon-Levitt is no longer just that kid from 3rd Rock From The Sun.

Over the years, he has developed into one of the strongest young actors that Hollywood has to offer, and Don Jon is a shining example of his talent.

Don Jon tells a funny yet heartfelt story through one of the more taboo forms of media: pornography.

This romantic 'dramedy' about a young man struggling with an addiction to porn is a well executed combination of charming storytelling with commentary on the world we live in today.

The performances in this film are superb, including Gordon-Levitt, who stars in his directorial debut alongside Scarlett Johansson and Julianne Moore.

I believe that audiences will understand and relate to Jon's journey in the film: the transformation into adulthood.

The fact that pornography is used as a central thread in the story does not take away from the themes, and it might even make the film more relevant considering the common use of sex in modern pop culture.

Don Jon, the story it tells, and the performances are not only entertaining, they are important.

All in all, a very well put together film that is engaging as well as lighthearted and funny.