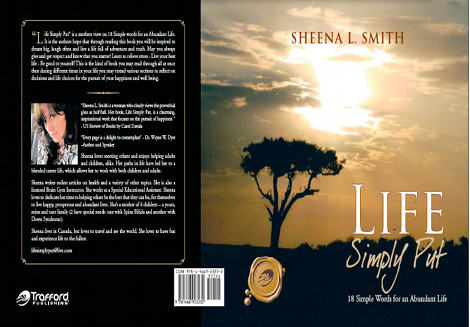 NEWS RELEASE
SHEENA L. SMITH
*************************
Mother Knows Best - She has good advice to consider
"You are responsible for your own happiness. Make choices that will honor your spirit and bring you joy."
These are words from a mother of six children who wrote a book called Life Simply Put for her children and friends.
Life Simply Put is a mothers view on 18 simple words for an abundant life.
It is the authors hope that through reading this Amazon Best Seller you will be inspired to dream big, laugh often, and live a life full of adventure and truth.
May you always give and get respect and know that you matter.
Learn to relieve stress-Live your best life-Be good to yourself!
This is the kind of book you may read through all at once then during difficult times you may reread various sections to reflect on decisions and life choices for the pursuit of happiness and well being.
Author, Sheena L. Smith was recently awarded a Gold Seal for Literary Excellence awarded by Trafford Publishing.
The cover has been redesigned to carry the seal of recognition for her literary accomplishment of receiving a positive review from the US Review of Books.
"In this book of life affirmations, the author's advice and suggestions range from concepts of living life to the fullest, counting your blessings, following your instincts, living in the now, and to "Dream big!" Smith's effort is a quick read, but more appropriately it serves as a small volume to page through slowly, revisit the word choices, and reflect on the positive life influences they enumerate. While words like faith, hope, and gratitude might be expected, more surprising is the push behind words like play, adventure, and grace that Smith emphasizes as integral elements for achieving life's best" US Review of Books by Carol Davala (see link below for full review)
Life Simply Put has also received praise from Dr. Wayne W. Dyer (Author and Motivational Speaker). He has said "Every page is a delight to contemplate"-
Life Simply Put: 18 Simple Words for an Abundant Life by Sheena L. Smith- Trafford Publishing. Available at Amazon, Indigo& Chapters, Barnes and Noble. Whenever books are sold.
Also, in e-book format. Full Review: http://www.theusreview.com/reviews/Life-Smith.html
About the author
Sheena dedicates her time to helping others be the best that they can be, for themselves to live happy, prosperous and abundant lives.
As a Child and Youth Worker, Holistic Nutritionist and licensed Brain Gym ® Instructor she has a great deal of experience working with and counselling others.
She is a wife and mother of 6 children –yours, mine and ours kind of family.
Two of her children have special needs, one with Down Syndrome and the other with Spina Bifida.
She loves to write, travel and enjoy life to the fullest. Lifesimplyput@live.com
*************************
(Editor's note: Award-winning, inspiring author Sheena L. Smith is one of our own. She is a Saultite.)