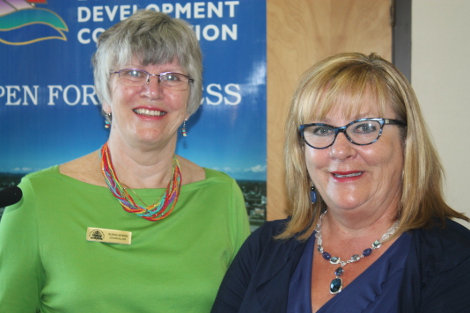 An event billed as the Academy Awards of Northern Ontario business is coming to Sault Ste. Marie next month.
City councillor Susan Myers, pictured with Northern Ontario Business publisher Patricia Mills, made the preview announcement for the 28th Annual Northern Ontario Business Awards at the Civic Centre on Tuesday morning.
The annual event is an opportunity for Northern Ontario entrepreneurs to meet and greet, network and honour those who have excelled in business over the course of the past year.
"We're excited that an expected 400 attendees will be coming to our community, " Myers said.
The awards were last held in the Sault in 2009.
This year's awards will take place Sept 24 and 25 and are sponsored in part by Village Media, parent company of SooToday and LOCAL2.
"25 Sault companies, over the past 27 years, have received the Northern Ontario Business award (carved in the shape of a windswept pine) and display it in their offices as a highly recognized badge of honour, often a stepping stone to those firms and individuals to gain national and international recognition," Myers said.
Sault NOBA winners, over the years, have included Lucidia, N-Sci Technologies, Rector Machine Works, Great Lakes Power, Jim Hilsinger, Mike Moore & Sons, Savoy's Jewellers, G-P Flakeboard and Northern Credit Union.
There will be 10 winners at this year's NOBA awards.
"We're hoping to have a full house, but it's not how many you have in the seats, it's who you have in the seats…I know there are some stellar winners again this year," Mills said.
Mills said whereas some northern communities are 'up and down' in regards to business success, the Sault always seems to be on a gradual upward trend, noting 85 percent of all successful businesses in the north are in the small to medium sized range.
"All the northern cities, I think, have diversified away from big industry, and innovation (such as in the information technology sector) is absolutely one of the areas of growth," Mills said.
Described by Northern Ontario Business as "the Academy Awards of Northern Ontario," a networking reception will be held at the Canadian Bushplane Heritage Centre September 24 from 5:30 p.m. to 8 p.m.
The Awards Gala Dinner will be held September 25 at 6:30 p.m. (registration at 5 p.m.) at Comfort Suites & Quattro Conference Centre.
Registration information for the awards is available at www.noba.ca