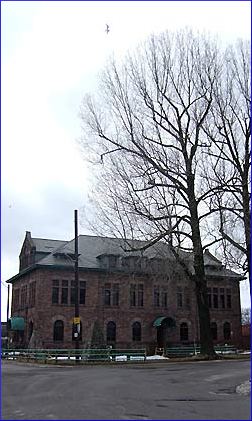 Algoma University will shift its music program downtown this fall in a lease agreement with the Algoma Conservatory of Music.
The conservatory, which currently operates out of the university campus, announced in the fall that it had purchased the historic general administration building at the Mill Square development on the former St. Marys Paper property.
Algoma U.'s board of governors voted to join the conservatory at its monthly meeting this week, the conservatory said in a release Wednesday.
"While the Algoma Conservatory was prepared to operate independently at its new building it is certainly ideal that our 42 year collaboration through shared instructors and space with Algoma University will move forward seamlessly," said Guy Traficante, principal of the conservatory, which is also expected to make the move in September. "The lease agreement will continue this important community affiliation and assist with the facility's annual operating costs. We will finally have the space needed for expansion of programs at both the Algoma Conservatory and Algoma University Music Department".
An influx of university students bodes extremely well for the entire area, said Justus Veldman, CEO of Riversedge Developments.
Veldman, whose company is behind the Mill Square project, said he would welcome more involvement by Algoma U. and Sault College, not just on the former St. Marys site, but in the portion of downtown which the city is now calling the 'Canal District.'
"Of course we have buildings of our own that we would love to fill with students and to create that sense of place, but there are many opportunities up and down Queen Street that are empty buildings that could be used by both institutions," he said.
Veldman said with more young people in the area there is potential to see pubs and coffee shops fill in some of the 'missing teeth' in Sault Ste. Marie's downtown and bring back some of the energy the area had in the 1960s and '70s.
Veldman pointed to Brantford, Kingston, and Grand Rapids, Michigan as examples of communities that have embraced being post-secondary towns.'
"It really creates a vibrant downtown," he said, noting that it can also attract students to those schools.
The building set to house the conservatory and Algoma U. music program is a rectangular sandstone structure built by Francis H. Clergue in 1901 to serve as his North American Headquarters.
It is the only one on the property designated a Canadian Historic Site and offers the conservatory and university expanded space, including room for performances and special events.
Currently, the conservatory's facilities have enough space only for private instruction.
The new building is expected to allow for the development of new group music programs that will be "reasonably priced," says the conservatory.