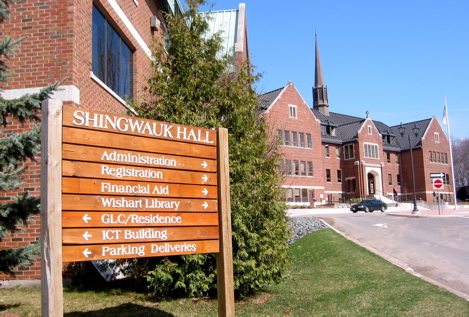 NEWS RELEASE
ALGOMA UNIVERSITY
*************************
Renovations to the George Leach Centre kick off anniversary celebrations
Upgrades to change rooms mark 20 years of service
SAULT STE. MARIE, ON (December 17, 2012) - Members at the George Leach Centre (GLC) at Algoma University have a little more elbow room these days, as facility upgrades mark the 20th anniversary of the east end fitness facility.

"It's hard to believe that it's been here for 20 years," said Brian Leahy, operations coordinator for the GLC. "Things have changed a lot in that time, but it was time to upgrade the facility for our students and members. We think the modifications to the change rooms improve the quality of the experience here."

The change room upgrades were just a part of the over $100,000 spent on renovations to the facility in 2012.
New carpets and furnishings were part of a lobby facelift in the spring, and Algoma University Athletics purchased new spectator seating for the gym in the summer.
The renovations are all part of the university's road to the OUA, which will see Algoma U compete in the Ontario University Athletics conference starting in 2013.

Long-time GLC member Tony Celli is happy to see the upgrades.
"It is great to see the recent renovations to the change room and lobby areas of the facility. It certainly adds to the welcoming environment for community members and the students of Algoma University."

Leahy hopes that the improved facilities will prompt more community members to give the GLC a try.
"Whether it's a student who is home over the holidays and only needs a temporary membership, or someone is looking to give the gift of fitness this holiday season, we would encourage them to consider the GLC," he said.

About Algoma University
Algoma University offers a wide variety of liberal arts and sciences degree options including programs in psychology, computer science, business administration, fine arts, community economic & social development, and biology in Sault Ste. Marie, Brampton, Timmins and St. Thomas.
As a partner with Shingwauk Kinoomaage Gamig, Algoma U is committed to respecting Anishinaabe knowledge and culture.
Algoma University has launched its Essential Elements Campaign to expand its campus and offer more scholarships and awards to students.
To learn more, visit here.
*************************