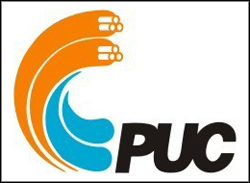 As reported Monday by SooToday.com, the Sault Ste. Marie PUC was advising the public to prepare for traffic re-routing Monday night or early Tuesday morning on Great Northern Road near the Sault Area Hospital (SAH) entrance at Lukenda Drive so that crews could repair a water main break in that area.
That repair work has been postponed, Randy Johnson of PUC Marketing and Customer Communications has informed us.
"Now, we're going day-to-day on that one," Johnson said.
"The water is finding its way into the catch basin so it's not on the roadway, and no one is without water."
Johnson said the media and the public will be notified when the time does come for that particular repair job.
Vehicular traffic flow will be restricted and re-routed at that time.
The reason for the postponement, Johnson told us, is that PUC crews had to tackle six other, new water main breaks throughout the city.
Three occurred Monday evening on McMeeken Street, Spruce Street and Cunningham Road.
Then, during the early hours of Tuesday, PUC crews addressed water main breaks on Routledge Avenue, Campbell Avenue and Moluch Street.
"That's quite a few water main breaks for our staff in a short period of time," Johnson said.
"We were hoping to get a crew together to get started on that water main repair (near SAH) at Great Northern and Lukenda but unfortunately other water main breaks took priority and we've only got so much as far as resources go."
Meanwhile, Johnson told us Tuesday that as of Friday, March 7, a total of 208 Sault residents had reported frozen pipes in their homes since the PUC starting keeping count in December.
"The numbers are going up and they continue to go up, and that's quite a leap…just over a four-day period we had 40 to 50 new frozen water service calls come in."
Johnson said the frozen water pipe calls are not limited to any particular part of the city.
"We've had an historical list of those homes that were more susceptible and those are the folks we have contacted."
However, Johnson said: "Now, we're finding some new ones, even some businesses that in the past never experienced this type of problem."
Johnson recalled the winter months of 1994 and 2003 were particularly harsh, estimating over 300 frozen pipe incidents hit community homes in 1994.
Johnson said: "(This winter) I think it has more to do with the ground being so saturated, there's so much moisture from the heavy rain we had last fall, it didn't get a chance to leave, then we had an early start to winter and everything froze up."
"It's continuing to just harden up and the frost keeps driving its way down, and we think that's going to be pretty typical for the next six to eight weeks…we'll continue to see frozen water services and water main breaks."
"It's really started to take its toll."
The PUC has contacted and advised homeowners who have experienced frozen pipes in the past to keep their water running at the thickness of a pencil, 24 hours a day, preferably from a basement laundry tub, in order to prevent their pipes freezing again.
The PUC says such customers can make arrangements with the utility to be billed on the average amount of water they used at this time last year.
As an added precaution, Johnson said customers should ensure plumbing on outside walls is well-insulated, especially at homes that have crawl spaces.