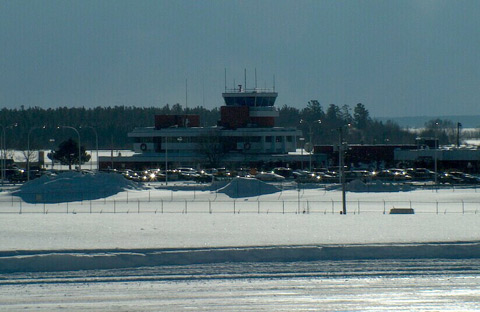 The Sault Ste. Marie Airport is growing and the Northern Ontario Heritage Fund is helping it along the way with a $450,000 investment, says Sault Ste. Marie Member of Provincial Parliament David Orazietti.
In 2010 about 120,000 passengers passed through the Sault airport on domestic and international flights, said Orazietti in an announcement today.
In 2012 185,000 passengers used the Sault airport for domestic and international flights.
The passenger holding room and the Canadian Border Services Agency (CBSA) arrivals area will be expanded, said Orazietti, and the baggage belt will be removed and replaced.
The expansion will see 18.5 positions retained at the airport and the facilities to serve more passengers as the airport continues to grow, he added.
"The province's Northern Ontario Heritage Fund Corporation (NOHFC) is continuing to support business expansion in Sault Ste. Marie by investing $450,000 in the Sault Ste. Marie Airport Development Corporation (SSMADC) for upgrades and renovations to the airport," Orazietti announced.
"Our government's support of this project is consistent with the Growth Plan for Northern Ontario and represents further provincial investment in the Sault Ste. Marie Airport Development Corporation so that they can continue to meet the needs of the travelling public," said Orazietti.
Sault Ste. Marie Airport Chief Executive Officer Terry Bos says the NOHFC funding announced today will assist in the third phase of the terminal development which he says should be completed by the end of March 2014.
"This matching funding will facilitate the expansion of the arrival area for improved service and clearance of travelers entering into Canada from international flights," said Bos. "It will also result in the addition of a new baggage handling conveyor facility which will improve customer service and processing of passenger baggage generated from all of our scheduled flights and charter carriers."
The SSMADC is responsible for raising its revenues from fees, concessions and leases to meet its operating expenses, renew its facilities and pay its taxes.
It has operated the Sault Ste. Marie Airport since 2008.
This funding is in addition to $1 million provided by NOHFC in 2011 to support upgrades and an expansion to the airport terminal building.
In addition the SSMADC received another $1 million to construct a new 22,320 square foot hangar with a 39,600 square foot apron which allowed for JD Aero Technical to expand its operations for aircraft maintenance, repairs and overhaul for commercial airline companies, such as Porter Airlines and Air Canada Jazz.
(Photo courtesy of Sault Ste. Marie Airport Development Corporation website)