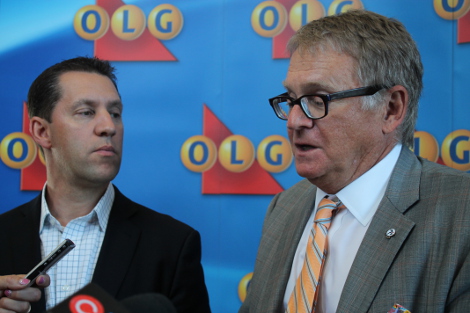 Philip Olsson, Ontario Lottery and Gaming (OLG) Chair, says the corporation's modernization process which is currently underway will benefit Sault Ste. Marie.
Olsson (pictured with Sault MPP David Orazietti at OLG's Sault office), spoke to reporters Thursday afternoon shortly before taking a tour of OLG's Sault office as part of a two-day visit by OLG's board of directors.
The OLG's modernization process is designed to boost revenue for the province and create jobs by bringing in lottery and gaming expertise from private sector partners in an increasingly competitive lottery and gaming sector.
"The reason we're modernizing is…because our revenue at OLG has pretty much reached its high water mark and we need significant investment (from private sector lottery and gaming partners) to maintain what we have," Olsson said.
Olsson said expansion of OLG services without modernization would cost Ontario taxpayers $1 billion.
"We're not going to ask the taxpayers in Ontario to do that and that's why we're bringing in service providers to help us renew our products and our system," Olsson said.
A common perception is that modernization means privatization, and a loss of jobs at OLG's Sault office.
The Sault OLG office employs 540 people, with another 300 at Casino Sault Ste. Marie.
Olsson said "OLG will shrink to fewer than a thousand employees (between the Sault and Toronto OLG offices)," but added the lost jobs will then be provided by OLG's private sector partners.
Olsson said he anticipates many of those jobs will be in Sault Ste. Marie.
Both Olsson and Orazietti agreed a considerable amount of the required expertise exists in Sault Ste. Marie.
"We're not privatizing, we're simply modernizing using this technique that will allow us to pull in other people's technology and capital investment and create more jobs for people in Ontario," Olsson said.
"The structure of OLG will be smaller but the number of people involved (in lottery and gaming) in the province will be greater."
Both Olsson and Orazietti reaffirmed the Sault OLG office is officially considered its head office.
OLG is currently looking for a new president.
Olsson could not give assurances that the president's office, along with those of other senior management officials, would be moved to the Sault.
That is something Sault Mayor Debbie Amaroso and city council has called for.
"We're committed to transitioning any job that can be done in the Sault back here as positions open up," Olsson said.
The visit from Olsson and the OLG board of directors has included a board meeting held in Sault Ste. Marie (the board includes Sault lawyer Orlando Rosa) and a visit with Sault Mayor Debbie Amaroso and Chief Administrative Officer Joe Fratesi Wednesday.
Olsson said the board is committed to having at least one board meeting in the Sault each year.