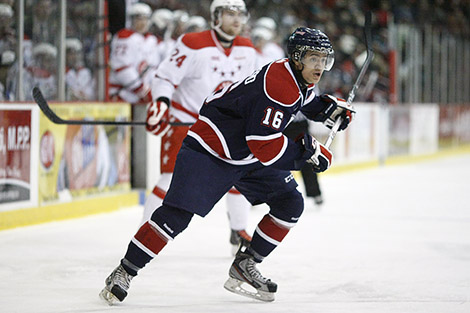 The search for missing Saginaw Spirit forward Terry Trafford has come to a devastating end.
Saginaw police have confirmed that they found a vehicle matching the description of the one driven by Trafford. The vehicle was reportedly found in a parking lot behind a local Walmart. In it was the body of an unidentified "young man."
Lt. Brian Cole of the Michigan State Police told Yahoo Sports that there is no timetable as to when confirmation of the car or the body would happen.
Meanwhile, the Spirit released a statement on Tuesday evening on their website that they had been informed by State Police that the body was indeed that of Trafford.
"It is with very heavy hearts that we announce that late this afternoon we were informed by the Michigan State Police that the body of Terry Trafford has been found," the statement read. "Our deepest condolences are with Terry's family and his friends both in Ontario and Michigan. Terry played on our team and was a member of the Spirit family for the last four years and he will be missed. We have reached out to Terry's parents and will look to provide them with support over the coming days. In addition, we met with team players and staff this evening, along with our Team Chaplain."
OHL Commissioner David Branch released a statement on Tuesday.
"On behalf of the Ontario Hockey League, our teams, players and staff I want to express our sincerest condolences to the family and friends of Terry Trafford. This is a tragic situation for all involved," the statement read. "We will work closely with the Saginaw Spirit to provide any support required to the players and staff during this very difficult time. In addition, all of our teams will be offering support to their players."
The league also announced that the game originally scheduled for Wednesday night between the Spirit and the Soo Greyhounds has been postponed.
Trafford was last seen leaving the Dow Event Center in Saginaw on March 3. At that time, it was believed that the 20-year-old was heading back to his hometown of Toronto.
Tight-lipped early on, the Spirit, through team President Craig Goslin, confirmed that Trafford had been sent home by the team for what they called a "rules violation" but also said that he had not been kicked off the team.
In an interview with the Toronto Sun, Goslin said that Trafford had been living with him and his wife, hoping it would help get his life in order.
"The reason he was in with us was that he needed some mentoring," Goslin told the Toronto Sun. "We made sure we mentored the young man. He's a good kid that seems to make some bad decisions at times."
Trafford's girlfriend, Skye Cieszlak, told Yahoo Sports on Monday "When I spoke to him he was completely devastated because he told me that the Spirit sent him home for good and that they didn't' wasn't him back on the team because he had gotten in trouble."
In an interview with the Toronto Sun, Cieszlak told reporter Jenny Yuen that Trafford had "suffered from depression for many years" and had threatened to kill himself during a phone conversation prior to his disappearance.
Traffords parents, Roy and Beverly, told CityNews of Toronto, they expected their son home last Monday and that calls, text messages and emails had gone unanswered.
Photo by Kenneth Armstrong