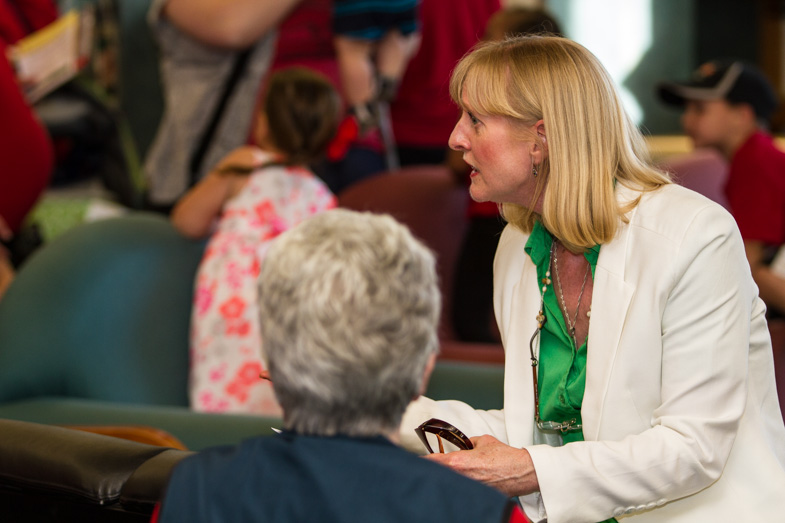 Tonight at the Sault Ste. Marie Public Library, all five provincial election candidates gathered for the first time since campaigning began.

The informal meet-and-greet invited members of the community to discuss with each candidate the party platforms and issues of potential concern.

"Developing renewable energy, being energy efficient. These are things that we espouse in our city," said Green Party candidate Kara Flannigan (pictured) during her brief address to the crowd. "The Green Party has a platform to expound on all of those things. We want to bring honesty and integrity and good public policy to Queen's Park."

"Libertarians… believe that problems created by the government cannot be fixed by yet more government. These would include problems like systemic corruption and a sluggish economy," stated Libertarian candidate Austin Williams. "I'm here today because I'm trying to offer everyone a choice between more status parties who believe the government can regulate your personal life, or freedom and the Libertarian Party."

Also taking part in the evening's meet-and-greet were incumbent David Orazietti (Liberal), Celia Ross (NDP), and Rod Fremlin (PC).

On Thursday, May 29 at the Comfort Suites (229 Great Northern Road), the Ontario Secondary School Teachers Federation will host a meeting with candidates Celia Ross (NDP), Kara Flannigan (Green), and David Orazietti (Liberal).

The public is encouraged to attend and meet the candidates between 7 and 9 p.m. in order to find out how each party's platform relates to education.