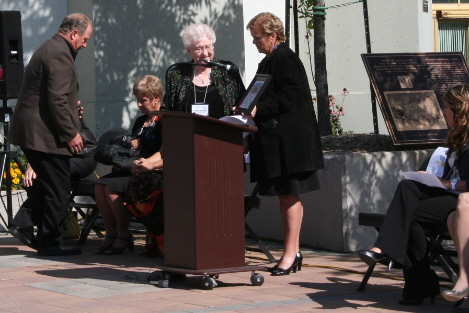 Miss Trixie Hardy, founder of the Trixie Hardy Dance Studio and a 2011 inductee into the Sault Ste. Marie Walk of Fame, is turning 90.
To celebrate, her family has organized a little get together for her at Algoma's Water Tower Inn and Suites.
They are hoping to see many of her former students at the party on Saturday from 1 to 4 p.m.
It would make her day and we at SooToday.com are willing to bet she'd remember many, if not most, of her former students.
Here's what the Sault Ste. Marie Downtown Association and Walk of Fame Committee had to say about Miss Hardy when her granite maple leaf was unveiled in September 2011.
(Seen is a SooToday.com photo of Miss Hardy receiving her Sault Ste. Marie Walk of Fame certificate from Sault Mayor Debbie Amaroso. Photo by Brad Coccimiglio)
*************************
Miss Trixie Hardy
As the daughter of former vaudeville performers, in England, Beatrice – better known as Trixie - came by her talent naturally.
Having started dance lessons at age two, her commitment to her art was apparent early on.
When she arrived, as a young woman in Sault Ste. Marie in 1948, Miss Hardy opened a dance studio almost immediately at the old Moose Hall with six students.
Over the next 58 years, she taught thousands of children from the twin Saults and all over Canada.
Many of her students have gone on to their own carers as dancers, actors, singers or Teachers of Dance.
Many of the dance studios that are established today in the Sault were founded by her former students including Davey Dance Company; Sherry Walsh Academy, Soo Dance Unlimited as well as the former Kiana School of Dance Arts, Shelley Peters and Judy Ross Dance Arts.
In addition to teaching, Miss Hardy also produced and directed a number of theatrical performances, shows and musical comedies.
Performances and comedies she was involved in included the Musical Comedy Guild, Soo Opera Society as well as the Algoma Steel Variety and Minstrel shows of the 50s and 60s.
Miss Hardy is a Fellow of the British Association of Teachers of Dancing, honourary Member of Dance Masters of America and the Canadian Dance Teacher Association. As an Examiner Emeritus, Miss Hardy has been recognized nationally and internationally for her excellence in teaching, adjudication and lecturing. She is the past recipient of many awards – including the City's Medal of Merit award - recognizing both her accomplishments and contributions.
Incidentally, Miss Hardy is also known as Mrs. Beatrice Connolly, the wife of the late Pat Connolly and also known as Mom to her seven children.
Today we honour Miss Hardy with a granite maple leaf in the Sault Ste. Marie Walk of Fame. She is being honoured for the promotion and strengthening of the arts and enhancing cultural development in our city.
*************************