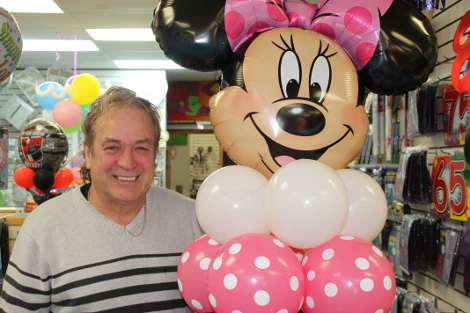 As of June 1, Ontario's minimum wage will increase from $10.25 per hour to $11 per hour, making the province's minimum wage the highest of any jurisdiction in Canada.
In addition, the Ontario government introduced its Fair Minimum Wage Act in February.
The bill, if passed, would tie future annual minimum wage increases to Ontario's Consumer Price Index, in an effort to make sure the province's minimum wage keeps up with the cost of living for individuals and families at a predictable, manageable rate for employers.
While the increase to $11 per hour and the possibility of minimum wage steadily increasing under the Fair Minimum Wage Act is welcome news for workers, these developments are a concern for employers, especially those who own small businesses.
Al Pyette (pictured in a light-hearted moment at his Showstoppers party rental store on Queen Street) told SooToday.com he has no plans to lay off any of his five staff members.
"I pay a little bit above minimum wage, I think people deserve to earn a decent living, but when you add any expenses to a small business on top of electricity and other costs, an increase to minimum wage is an added expense."
"I'll probably have to really reconsider hiring a summer student like I usually do after Victoria Day weekend," Pyette said.
Pyette said he is "a little concerned" over the government's bill that would tie minimum wage to the Consumer Price Index.
"That's going to really add up to a lot of dollars…I don't know if the government should be looking into legislation like that, it's a scary thought," Pyette said.
"On Queen Street, businesses already have a lot to deal with," Pyette said, such as property taxes, online shopping and cross-border shopping.
Still, Pyette said he will most likely cut hours, not staff, if minimum wage climbs annually under the proposed legislation.
Pyette said his concerns would be lessened if more shoppers would spend more time in the downtown core.
Jason Doyon told us June's minimum wage increase will not affect staffing at his two Pet Valu store locations in the Sault.
"It doesn't affect our hiring practices because we must have a certain number of staff to make sure the animals and fish we have are adequately cared for."
"We don't want to sacrifice the care of our animals (by cutting staff) or our level of customer service in order to save a few dollars off our bottom line," Doyon said.
Doyon did say, however, that the proposed Fair Minimum Wage Act may cause him some long-term problems.
"It won't affect us in a huge way right now, but I can tell you if they do increase minimum wage by tying it to the Consumer Price Index every year, I think it may negatively affect our business."
Jason Schultz, co-owner/operator of Eastside Confectionery, a small family business which has been around for 40 years, said he is concerned over the latest minimum wage developments.
"Initially I was happy because some people (anti-poverty activists and labour union representatives) were talking about how it should be $14 an hour."
"If they ever put it to $14 an hour, I would be looking at closing the doors, or going to a schedule where I'm working only eight hours a day, and working those hours by myself."
"I understand the government wanting to bring people above poverty line, but at the same time that would be stopping a business owner from trying to make money."
Schultz said $11 an hour, up from $10.25 an hour, "doesn't seem like a lot" but it is an added difficulty for smaller stores like his.
Among the difficulties, Schultz said, is the dramatic drop in revenue made from movie rentals and magazine sales.
Apart from his concern over buying supplies such as bread, milk and other food products for his store, is his feeling that small store owners should be allowed to keep more revenue from lottery ticket sales.
"If they (the government) are going to raise the wage, why don't they give us more from lottery ticket sales?"
"Something has to change in the industry I'm in," Schultz said.
"They should start letting us sell liquor."
The Ontario government, at the beginning of April, announced it would allow liquor kiosks in grocery stores.
Schultz is unsure if he will have to cut staff or hours at his store.
"In spring it gets busier…a lot of it depends on cross-border shopping too," Schultz said.
"We're a part of the community, we pay our taxes, we hire people from the neighbourhood, we want to be a part of what's going on, but it's getting harder, it's getting tough."
The Fair Minimum Wage Act has passed second reading in the Ontario Legislature, and the Liberal government is urging the Progressive Conservatives and the NDP to support it.
With Premier Kathleen Wynne's Liberals in a minority government situation, and with speculation growing that an Ontario general election looms, the Fair Minimum Wage Act may not pass.
Related SooToday.com reading