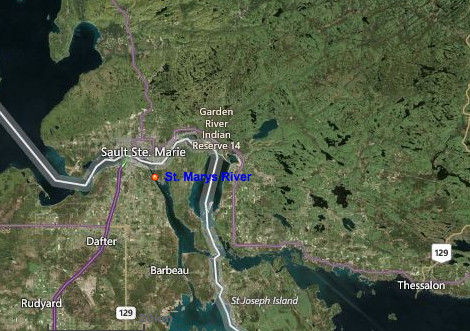 In 1988 the ST. Marys River Bi-National Public Advisory Council (BPAC) was formed after the entire St. Marys River was designated an environment area of concern on in the Great Lakes.
The river extends from the head of the river at Whitefish Bay (Point Iroquois - Gros Cap), downstream through the St. Joseph Channel to Humburg Point on the Ontario side, and to the straits of Detour on the Michigan side.
"Impairment of water quality, sediment, and biota remain due to historical point source discharges," says the United States Protection Agency (EPA)
"Contaminants of concern include oils and greases, suspended solids, metals, phenols, ammonia, bacteria, and PAHs. Sources contributing to the beneficial use impairments (BUIs) include Algoma Steel, two Ontario water pollution control plants, combined sewer overflows, St. Marys Paper, and various nonpoint sources. As a result of industry and municipal discharges, sediments have become contaminated with toxics such as arsenic, cadmium, chromium, copper, cyanide and lead."
Today, Michigan senators Gary Peters and Debbie Stabenow issued a joint news release announcing a $7.9 grant for remedial action plans to recover environmental areas of concern on the Great Lakes.
The full text follows.
************************
WASHINGTON, DC – Michigan's U.S. Senators Gary Peters and Debbie Stabenow, both members of the Great Lakes Task Force, today announced that the National Oceanic and Atmospheric Administration (NOAA) is awarding $7.9 million to fund habitat restoration projects in the Great Lakes Areas of Concern (AOC).
The Great Lakes Commission will lead a regional partnership in coordination with NOAA, the Great Lakes states and local agencies.
"With 33 million Americans counting on the Great Lakes to provide safe drinking water, it's vital that we have the resources to improve water quality and wildlife habitats in these areas that need the most cleanup action," said Senator Peters. "The health of our Great Lakes is critical to Michigan's environment and our economy, and this significant investment from NOAA will have a positive, tangible impact as we continue working to restore and protect this ecosystem."
"The Great Lakes are a critical part of Michigan's economy and our way of life," said Senator Stabenow, Co-Chair of the Great Lakes Task Force. "This grant will support regional partners as they work to protect our Great Lakes, waterways, and wildlife habitats."
The U.S.-Canada Great Lakes Water Quality Agreement designates AOCs as sites with the worst legacies of toxic contamination and environmental degradation in the Great Lakes ecosystem in order to focus federal cleanup efforts.
The EPA currently lists 11 different AOCs in the State of Michigan.
*************************