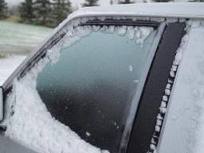 SPECIAL WEATHER STATEMENT
ENVIRONMENT CANADA
*************************
SPECIAL WEATHER STATEMENT FOR: IGNACE - ENGLISH RIVER - SEINE RIVER VILLAGE - MINE CENTRE - ATIKOKAN - UPSALA - QUETICO - WAWA - WHITE RIVER - PUKASKWA - SAULT STE. MARIE - SUPERIOR EAST - KAPUSKASING - HEARST - TIMMINS - COCHRANE - GREATER SUDBURY AND VICINITY - CHAPLEAU - GOGAMA - KIRKLAND LAKE - NEW LISKEARD - TEMAGAMI - ELLIOT LAKE - RANGER LAKE - MANITOULIN - BLIND RIVER - KILLARNEY - NORTH BAY - WEST NIPISSING.

A WIDE VARIETY OF WEATHER OVER NORTHERN ONTARIO FOR THE NEXT COUPLE OF DAYS.

A LOW PRESSURE SYSTEM TRACKING FROM MICHIGAN THROUGH SOUTHERN ONTARIO TONIGHT COMBINED WITH A SECOND LOW MOVING FROM MANITOBA INTO NORTHERN ONTARIO IS BRINGING A WIDE VARIETY OF WEATHER TO NORTHERN ONTARIO OVER THE NEXT COUPLE OF DAYS.

1. 10 TO 15 CM OF SNOW IS EXPECTED TO FALL EAST OF LAKE SUPERIOR TODAY AHEAD OF A WARM FRONT. 15 CM IS FORECAST OVER THE NICKEL BELT WHERE SNOWFALL WARNINGS ARE IN EFFECT. THE SNOW IS EXPECTED TO TAPER OFF LATE THIS AFTERNOON AND EVENING TO PERIODS OF LIGHT SNOW AND PATCHY FREEZING DRIZZLE.

2. 10 TO 15 CM OF SNOW IS FORECAST TONIGHT FOR AREAS NEAR AND NORTH OF QUETICO PROVINCIAL PARK. SNOW WILL BEGIN THIS EVENING AND CONTINUE THROUGH EARLY TUESDAY MORNING. THE HIGHEST AMOUNTS WILL LIKELY BE NEAR THE MINNESOTA BORDER, BUT ARE EXPECTED TO REMAIN BELOW ENVIRONMENT CANADA'S SNOWFALL WARNING CRITERIA OF 15 CM IN 12 HOURS.

3. AS THE WARM FRONT PUSHES FARTHER TO THE NORTH, A BAND OF FREEZING RAIN CAN BE EXPECTED TO MOVE INTO REGIONS ALONG LAKE SUPERIOR AND GEORGIAN BAY EARLY TUESDAY MORNING, THEN ALL THE WAY NORTH TO KAPUSKASING AND TIMMINS BY TUESDAY AFTERNOON. THE EXACT TIMING AND AMOUNT OF FREEZING RAIN WILL DEPEND ON THE DEVELOPMENT AND POSITION OF THE WARM FRONT. THERE REMAINS SOME UNCERTAINTY IN THE POSITION AND INTENSITY OF THE WARM FRONT. ENVIRONMENT CANADA IS MONITORING THIS SYSTEM CLOSELY AND WILL ISSUE FURTHER STATEMENTS AND WARNINGS AS NECESSARY.

PLEASE MONITOR THE LATEST FORECASTS AND WARNINGS FROM ENVIRONMENT CANADA.
*************************