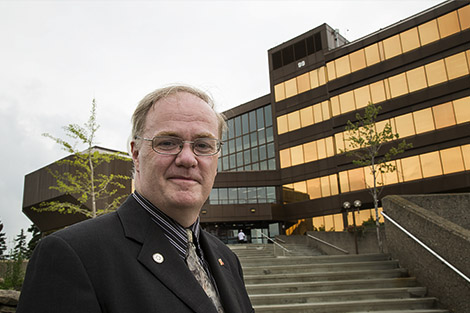 Ted Johnston has filed his nomination papers to challenge Debbie Amaroso and run for mayor of Sault Ste. Marie in the October 27 municipal election.
Johnston, 49, is a member of the Sault Ste. Marie Ratepayers Association and says he is a strong believer in citizens working with municipal government in a continuous improvement process, but feels citizens have not been listened to by the current administration at city hall.
"There are some major things that need to be done," Johnston said to SooToday.com Monday.
"The city needs to run like a business," Johnston said, stating the city should have, for example, foreseen the need to repair several of its own municipal buildings such as the Civic Centre, which, a recent study found, needs considerable repair.
"Why were they not being maintained in the first place?" Johnston said.
"I just replaced the hot water tank in my house and put aside the money for it last year, knowing it needed to be fixed…why didn't the city set aside the money to fix these buildings?"
Johnston is currently Amaroso's only challenger, though nominations for the Oct. 27 municipal election are open until Sept. 12.
Johnston criticized the city for high property taxes and high PUC rates for scaring off businesses and individuals from setting up shop and living in the Sault.
Johnston said historically, property taxes are going up faster than wages (though there was a zero percent increase in the 2014 budget).
"It doesn't take very long before you lose all your money and lose your home…four more years of tax increases and I might lose my own home," Johnston said.
Johnston criticized all three levels of government on the issue of job creation.
"An infrastructure project which employs however many construction personnel is not job creation, it's temporary and only lasts the life of the construction project and once it's in place there are only a few people involved in the maintenance of it."
"That's not true job creation."
"We can't have high taxes and PUC rates that scare investors off, we must have new businesses to add to the local economy and the current administration has done a poor job to attract businesses," Johnston said.
He feels the city should have been successfully promoted as a multi-modal trade and transportation hub long ago.
"This city needs to be promoted by the city to other areas, it needs to be sold by the city to potential businesses, and city staff need to be on the phone and going in person to businesses and saying 'what's needed to have you come here?'"
"That's what needs to be done," Johnston said.
The Sault Ste. Marie Economic Development Corporation (SSMEDC), Johnston said, is not doing a satisfactory job in that area.
"The unemployment rate is higher here than the national and provincial average…if they (the SSMEDC) were doing a good job the unemployment rate here would be lower," he said.
An idea which the Sault Ste. Marie Ratepayers Association has, and one which Johnston supports, is the creation of a Continuous Improvement Committee to work with city hall and elected leaders, "where any citizen can present ideas…but the current administration is apathetic about it."
Born in Innisfail, Alberta, the youngest of 10 children, Johnston grew up in several communities across Canada and around the world, as his father served in the Royal Canadian Air Force.
He too joined the military after completing high school, then worked for an automotive company in southern Ontario.
Johnston returned to school in his mid-40s and became an undertaker, and after his training, joined the staff at Sault Ste. Marie's O'Sullivan-Donnelly Funeral Home.
Staff changes resulted after that business was purchased by new owners in February, and Johnston currently works at Tim Hortons on Bay Street.
"Someone of my level of skills and experience should never be unemployed, and the economy is much poorer than the government would have us to believe, and this area typically suffers."
"The economy of this area is poor, and this is a driving force behind me running for mayor," Johnston said.