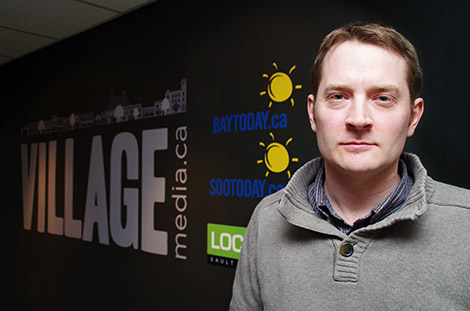 Meet Michael Purvis.

While his face may be familiar to many about town, he's brand spankin' new to the Village Media team.

We at SooToday.com would like to take this opportunity to officially welcome Michael aboard as he settles into his new role as assignment editor.

With him, Michael brings a wealth of journalism experience which began 13 years ago in Fort St. John, British Columbia.

There, he spent three years working for the daily Alaska Highway News, first as a reporter then as assistant editor.

Ten years ago this month, Michael returned home to Sault Ste. Marie to report for the Sault Star where he advanced his skills in hard news, feature columns, and sports reporting.

He's covered everything from education to the environment, as well as health matters, social issues, politics, and entertainment.

Michael holds a Political Science degree from Carleton University and Journalism diploma from Algonquin College.

He tells us he's excited to join SooToday.com and Local2.ca, and looks forward to covering his home town with a fresh perspective.

He's a talented writer, a great photographer, and a refreshing and valuable addition to the Village Media family.

He's also one heck of a nice guy.