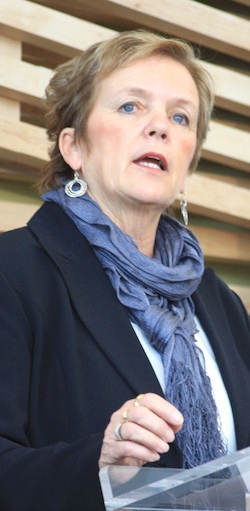 Sault Ste. Marie Mayor Debbie Amaroso is calling for a Northern Ontario summit between herself, the Mayors of the four other large Northern Ontario communities, and elected officials and staff of provincial government ministries that deal with Northern issues.
The call for such a summit comes in a document compiled by Amaroso and the Mayors of Thunder Bay, Sudbury, Timmins and North Bay and arose from meetings held at the recent Association of Municipalities Ontario (AMO) Annual Conference in Ottawa.
The document, entitled Priorities: Linking Municipalities and the Growth Plan for Northern Ontario, is dated August 20 and calls for a Northern Ontario summit within 90 days of that date and the development of ongoing consultation and activities related to discussion of Northern issues.
Regarding that 90 day time frame, Amaroso told SooToday.com after Monday's City Council meeting: "We didn't want to leave it open ended."
"There's nothing set, but there is a sense of urgency about it."
"We hope to have a meeting sooner rather than later," Amaroso said.
The August document names a new collaborative relationship with Queen's Park recognizing Northern Ontario's importance to the province, infrastructure, energy costs for businesses, workforce development, investment in research and innovation and fair revenue sharing for the North as six priorities.
Amaroso said Premier Kathleen Wynne's announcement of a new Northern Ontario caucus during a cabinet visit to Sault Ste. Marie March 1 has helped set up a framework for a much-needed fresh recognition and commitment to discussion of Northern Ontario's priorities.
"She understands how resource rich we are and how we can contribute to the success of Ontario."
"We are saying let us (Northern Ontario cities) be a part of your Northern Ontario caucus."
"We have much to offer," Amaroso said, pointing to ambitious future plans to develop the Ring of Fire region in Northwest Ontario and the hoped-for deep-water port for Sault Ste. Marie.
"We're 57 percent of Ontario's population, 64 percent of municipal expenditures, and represent 59 percent of of municipal infrastructure."
"Northern Ontario is a force that needs to be reckoned with and we play a role in the success and development of this province," Amaroso said, noting that once robust manufacturing communities such as London and Windsor have seen better days.
Out of the six priorities listed in the document, Amaroso said she considers infrastructure, including construction of the deep-water port, the biggest priority for Sault Ste. Marie.
The ending of connecting link funding (connecting links being 24 kilometres of vital commercial roads that lead in, through and out of Sault Ste. Marie), abruptly announced by the province early this year, remains a problem, Amaroso said.
Municipal taxpayers are now on the hook for maintenance of those roads, pushing other vital road maintenance projects further down the list.
Transportation Minister Glen Murray visited Sault Ste. Marie in July and announced infrastructure funding for smaller, rural communities in Algoma, but would only say the government is working on road funding for "medium-sized hubs" like Sault Ste. Marie.
Amaroso said: "The Minister is aware of the need and we continue to push the issue."
Regarding revenue sharing, Amaroso said she appreciates the role funding envelopes like the Northern Ontario Heritage Fund Corporation (NOHFC) play in Sault Ste. Marie and the rest of the North, but added: "Northern Ontario needs a bigger slice of the pie, especially as the Ring of Fire develops," adding that fair and equitable revenue sharing is something the North has not had in 20 years.
The release of the August 20 document stems from two days of meetings in May, in which Mayor Amaroso and Chief Administrative Officer Joe Fratesi met in Sault Ste. Marie with their counterparts from Thunder Bay, Sudbury, North Bay and Timmins to formulate a Northern-focussed policy paper to be put forward to the provincial and federal governments.