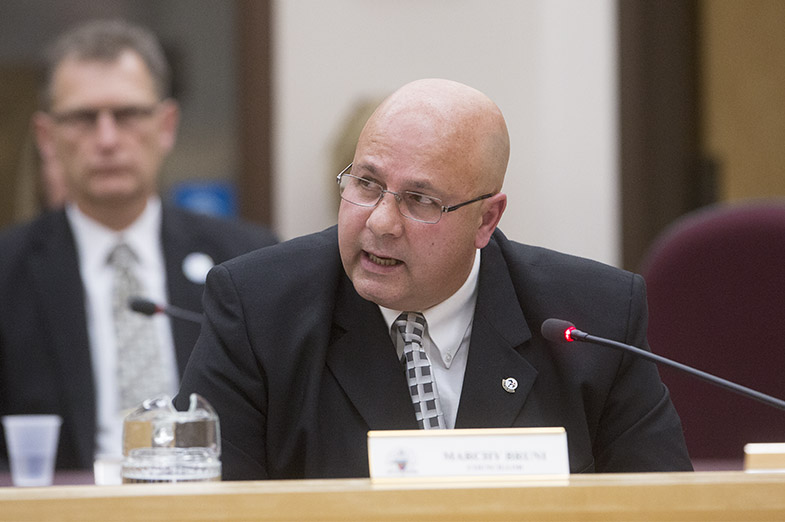 Mayor Christian Provenzano is unhappy with how Algoma Public Health has responded to a city request for information on the hiring of Shaun Rootenberg as APH's interim chief financial officer.
And if the health unit's board is willing to hear him, Provenzano wants to meet face-to-face to explain his position.
"I'd like to make it clear to the board of health, that I don't think they provided the information that we requested," the mayor said at a meeting of city council Monday night, adding: "I'd be happy to visit the board of health and make those representations in person."
On January 26, councillors passed a resolution expressing concern about reports that APH's interim chief financial officer "may have misrepresented his identity, and is reported to have been convicted of criminal offences for fraudulent activity."
City council asked the health unit for confirmation:
that it had hired a qualified auditor to investigate, confirm and report on the integrity of Algoma Public Health's financial records during the period of time that it contracted with or otherwise employed the interim chief financial officer, Shaun Rootenberg, who worked there under the name Shaun Rothberg.
what steps were being taken to ensure that no employee information was accessed, obtained or retained by Rootenberg.
what process was followed in retaining Rootenberg's services and if a new process was proposed, what deficiencies in the previous process were identified and how they were addressed.
Actuallly, three days earlier, the health board had retained the Sudbury office of KPMG to conduct a forensic audit.
And the same day as the council resolution, January 26, the provincial government announced that it would be conducting its own forensic audit as well as an assessment of the health board's governance.
Monday night's discussion at city council began with Ward 3 Councillor Matthew Shoemaker bluntly asking Ward 5 Councillor Marchy Bruni: "Mr. Bruni, why hasn't the KPMG report been released?
Bruni, who chairs the health board, testily responded: "I don't know if these questions should be directed to me because I sit on the board....The questions should be directed to Algoma Public Health.
Bruni then added: "In respect, I will answer some of these questions."
Bruni then outlined the main points from his letter responding to council's request for information.
He claimed solicitor-client privilege for the KPMG audit because it dealt with potential litigation.
"The report is strictly private and confidential and is intended solely to assist Algoma Public Health and its legal counsel in a specific matter and it is not intended for circulation or publication outside the APH and its legal counsel," Bruni told his fellow councillors.
Confidentiality notwithstanding, Bruni said that KPMG's review of selected disbursements did not find any payments that seemed unrelated to APH business or that resulted in unauthorized personal benefit to any individual.
KPMG also found no evidence that staff banking information or social insurance numbers were accessed by unauthorized individuals,
The one thing completely missing from APH's response to the city was information about how Rootenberg got into a senior position of trust at the health unit, and what was being done to prevent that from happening again.
Responding to questioning last night, Bruni indicated that, at its upcoming May meeting, the health board will be asked to amend its hiring policies to include explicit requirements for criminal reference checks for service providers.
Some thought that Bruni was being unfairly targeted.
Ward 1 Councillor Steve Butland, in particular, made a point of standing up for Bruni's integrity.
"You've got my vote of confidence, whether you want it or not," Butland told him.
Mayor Provenzano also went out of his way to be fair to Bruni.
"Councillor Bruni is just one member of the board of health," the mayor said. "They make decisions as a group of people."
"I don't see this as an inadequacy on Councillor Bruni's part. I see it as an inadequacy on the board of health's part. All we can do, in my opinion, is ask that the information we requested be provided. I don't think we can go any further than that."
"I'd like to make it clear to the board of health, that I don't think they provided the information that we requested. And I'd be happy to visit the board of health and make those representations in person."
Bruni then curiously responded by indicating that the health unit had been wanting for the mayor to drop over for tour and he offered to follow up by seeing if a time and place could be arranged for a visit by Provenzano and any members of council who wanted to attend.
To which the mayor responded that a friendly tour wasn't exactly what he had in mind.
"I don't think that's the same thing that I was suggesting. I was suggesting that I attend before the board of health," Provenzano said.
Councillor Shoemaker moved that the city ask the health board to produce the KPMG audit, but his motion failed for want of a seconder.
"I'm not, at this point, aware of any litigation that's happening. So I'm not sure there's a litigation privilege that can be claimed on it," Shoemaker said.
"I do think it would be a good idea to wait for the other audit," said Ward 1 Councillor Paul Christian. "Nothing's going to change what's occurred. Our questions would be better directed and better served if we waited for that other report."
"There's a provincial forensic audit. Why would we not wait for the results of that?" asked Councillor Butland.
"That we jump into the fray for what purpose? My issue is there's a human element here that we're just ignoring completely. I think we're putting a colleague of ours under extensive scrutiny," Butland said.
"I'm happy to leave the matter at that," said Mayor Provenzano. "We're going to be getting additional information, in any event, soon. But this is an important body. It represents all of the citizens of Sault Ste. Marie. We passed a motion on their behalf. And in my mind, we didn't get the information we were looking for."
"We can leave it at that, and I can take the matter up properly with the entire board and not just Councillor Bruni," the mayor said.
(FILE PHOTO: Marchy Bruni, Ward 5 Councillor and Algoma Board of Health chair. Kenneth Armstrong/SooToday)