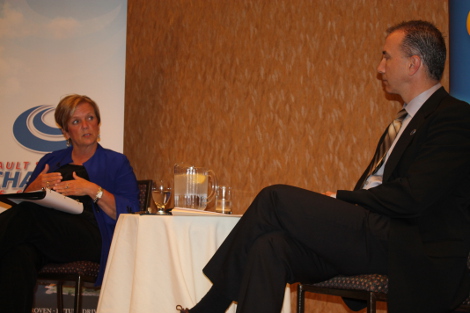 Mayor Debbie Amaroso told the Sault's business community she anticipates the city's people and economy will be in good shape in 2024.
However, she said the community faces challenges and a great deal of hard work needs to be done.
That was one of many comments from Amaroso Wednesday morning as she fielded questions from Sault Chamber of Commerce members at "A Dialogue with the Chamber and Mayor Debbie Amaroso."
Questions for the Mayor were submitted in advance by Chamber members and presented by Mark Barsanti, Chamber president (pictured with Mayor Amaroso).
In one particular question from the Chamber, envisioning a robust economy and a population of 90,000 in Sault Ste. Marie in 2024, Amaroso was asked what role council would have played in such a scenario.
"The role of municipal government is to create the environment to improve the quality of life for the residential and industrial tax base to reach that goal of 90,000 people, to keep taxes reasonable while still providing services," Amaroso said.
"That's something we're working on now and we seem to be doing good with developers from out of town," but added council needs to encourage more homegrown Sault business people.
Amaroso praised the Sault Ste. Marie Economic Development Corporation (EDC) as "our go-to people" in its efforts to help the local business community grow.
To help businesses succeed, "we must lobby (the senior levels of government) on energy costs…they're higher in northern Ontario, higher than anywhere else," Amaroso said.
Amaroso said council and the Downtown Association is "off to a good start" in revitalizing the downtown core, pointing to city programs to improve storefront facades and the establishment of a Sault Police Services office on Gore Street as a way to address the root causes of crime in that particular part of the city.
Amaroso was asked about helping seniors pay their property taxes.
"We're working hard to make sure no tax class is overburdened…everything must be balanced and people must be helped to stay in their homes."
On another Chamber question, Barsanti said the city provides "Cadillac" services in regards to snow removal, for example, but said taxes are high and asked Amaroso if there will be a review to bring some services down to a "Chevrolet" level.
"We challenge that," Amaroso said.
"Sault Ste. Marie actually has some of the lowest taxes compared to other communities…we challenge that we're too high," adding that other northern cities such as Thunder Bay do not enjoy the same level of services in such areas as snow removal compared to the Sault.
The mayor was asked if she supports more city funding for the EDC and its recent involvement in political issues, such as its aggressive push to keep OLG jobs in the Sault, its efforts to keep ACR passenger rail service from the Sault to Hearst alive, and its formal protest to Canada Post's massive job cuts plan.
Amaroso said because council and the EDC have common goals and a close relationship, it seems like the EDC may have strayed from its economic development strategies, "but I'm the one that's meeting with the politicians in Toronto."
While discussing the EDC, Amaroso said the EDC's own numbers show millions of dollars of investment from many companies has been the result of EDC efforts.
Amaroso said council and the EDC will continue to work together to rein in energy costs for businesses, as well as encourage job growth in niches such as information technology and renewable energy.
When asked how council intends to balance the Sault's aging population with new, younger people settling in the community to live and work to expand the tax base, Amaroso said "this isn't unique to Sault Ste. Marie."
Amaroso emphasized jobs must be created in digital gaming and renewable energy ventures to encourage young people to live and work in this community.
The mayor also praised the work done by the city's Local Immigration Partnership (LIP) and Dr. Richard Myers, Algoma University's president, in attracting newcomers to Sault Ste. Marie.
Barsanti, on behalf of the Chamber, asked where the mayor stood on the issue of Boxing Day shopping in Sault Ste. Marie.
Currently, Sault businesses are closed December 26 under municipal law.
Amaroso said she was in support of Sault stores being allowed to open for business on Boxing Day when she served as a city councillor.
"I'm absolutely in support of business doing what it has to do."
Amaroso was asked for her input on electoral reform.
It has been suggested by some that instead of the current system in which the candidates with the first and second highest number of votes in each ward make it to council, the 12 municipal election candidates with the most votes on a city-wide basis should form a new council.
The Chamber question suggested this, along with a deputy mayor, would cut down on "not in my back yard" (or NIMBY) decision-making.
Amaroso said her personal feeling is "I've found that city-wide running deters people from running for council because it's more expensive for candidates (to run a campaign)."
"Newmarket has that system, but there's not as close a councillor-constituent relationship."
However, Amaroso said "it could be prudent for the next council to form a committee to look at electoral reform, asking people what they want…that should happen every 10 years and we're coming up to that point now."
Amaroso said a mayor and a deputy mayor can sometimes work at cross purposes, but added "let's get the community involved" for its input.
The mayor also said she did not support the idea of term limits for councillors.
"I believe the electorate has a choice…you can lose that continuity if councillors are term-limited."
Amaroso said that in any case, she has seen new faces on council for every term she has been involved in municipal politics.
A question from the floor raised concerns that the Essar Centre, the Sault's top sports and entertainment venue, seems to stand empty much of the time, and asked if the mayor and council will be working with Tourism Sault Ste. Marie to help fill it up more often.
Amaroso said "there needs to be more activity generated there…we are doing a study."
Meanwhile, Amaroso said she is personally pushing "to get things moving (at the Essar Centre), to make sure the place gets filled."
Wednesday's Chamber event was sponsored by OLG and held at Algoma's Water Tower Inn.