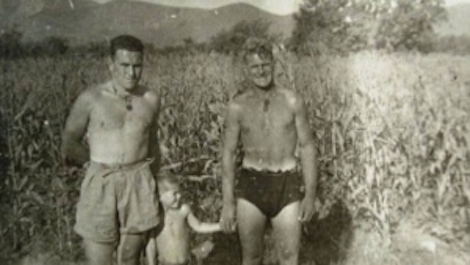 Maureen Mousseau's father was one of four Canadian soldiers who took in an orphaned five-year-old Italian boy during the Second World War and made him part of their platoon.
On Friday, for the first time in her life, Mousseau finally stood face-to-face with Gino Farnetti-Bragaglia as he visited Canada and met with family members of the men he credits with saving his life.
"He was wonderful," said Mousseau. "He smiled the entire time."
Mousseau said it was a big moment for her, as she grew up hearing stories of how her father, Merton Massey, and three other soldiers came upon the helpless Italian youth.
Massey, who wrote poems about the time the soldiers spent with the orphan, died in 1989 without seeing Farnetti-Bragaglia again after the war.
Mousseau and Farnetti-Bragaglia had planned to meet up when the Saultite travelled to Italy last September for the unveiling of a plaque dedicated to the Canadian soldiers, but the death of Rita Farnetti, Gino's adopted mother changed the plan.
Mousseau, her daughter Chantal Moore and two grandchildren, Cambryan, 3, and Atticus, 11 months, attended a ceremony in Toronto on Friday honouring the soldiers who saved Farnetti-Bragaglia.
Massey and fellow platoon members Lloyd 'Red' Oliver, Paul Hagen, and Doug Walker came across the young Italian boy while supplying Allied forces in the area.
The child was dubbed a corporal and stayed with them for about eight months until he was eventually taken in by an Italian family.
Mousseau said she read out some of her father's poetry to the audience at Friday's event, which included Veterans Affairs Minister Julian Fantino.
She said she thought Farnetti-Bragaglia was touched.
"We had a wonderful meeting. He doesn't speak much English but enough to know he really appreciated it," Mousseau said.
(PHOTO: Gino Farnetti-Bragaglia is pictured with Canadian soldiers Lloyd 'Red' Oliver (left) and Merton Massey, who settled in Sault Ste. Marie after the Second World War.)