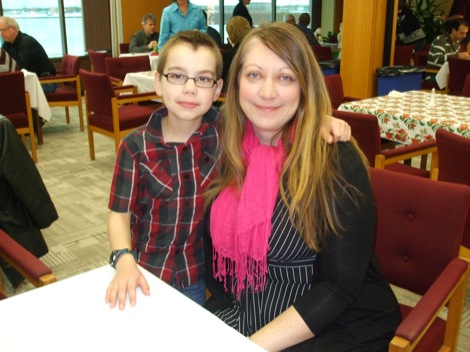 City of Sault Ste. Marie employees, Mayor Debbie Amaroso and City Councillors gathered at the Civic Centre Thursday morning to honour a strong, courageous boy who has battled a life-threatening illness.

Nine-year-old Mason Lahde was the guest of honour at a breakfast held in the Civic Centre's Russ Ramsay Room.

Mason underwent a kidney transplant in 2008, and in October 2011 he and his family enjoyed a trip to Florida sponsored by the Children's Wish Foundation of Canada, a national non-profit organization dedicated to fulfilling a favourite wish for children diagnosed with life-threatening illnesses.

Speaking to the audience gathered in the Ramsay Room, Mason said: "One day when I was eight years old, my parents told me about Children's Wish and told me I could have any wish that I wanted. My wish was to see Wolverine (a superhero character seen in comic books, video games and a series of films) at Universal Studios so we decided to go to Florida."

"It was the first time I had ever been on an airplane that didn't take me to a doctor's appointment," Mason said. "When we landed we got to see palm trees, we went to see Universal Studios. It was really cool, we got to eat all the ice cream we wanted, we swam in the pool every day, it was always sunny and warm and we got to swim in the ocean."

"We went on a roller coaster at Disney World and it was the scariest moment in my life!" he recalled. "I loved the whole trip and we took lots of pictures. I hope other kids get to go on a trip like this."

Mason was accompanied at Thursday morning's breakfast by his father Bob, his mother Kim, and 10-year-old sister Allie.

Bob Lahde told the audience: "Mason came into the world in September 2003. Being a first-time parent I knew very little about babies but I knew something wasn't quite right. He wasn't gaining weight, and after five weeks of waiting it was time to get some answers."

After a visit to the Emergency Department the family was told by doctors there was a problem with Mason's kidneys.

The next morning marked the first of many flights to The Hospital for Sick Children (Sick Kids) in Toronto.

It was discovered part of one of Mason's kidneys wasn't strong enough to sustain him.

Bob said "that tiny little kidney lasted about four years until it finally failed and it was time for Mason to go on the transplant list. In May 2008 we were called in the middle of the night and we had to get to Toronto right away."

On arrival there, Mason underwent his transplant operation and spent 100 days in Toronto recovering.

"Just to give you an idea how strong this little boy is, while he was in hospital, he found a Big Wheel tricycle he claimed as his own and parked it outside his hospital room every night," Bob said. "Less than a week after he was out of intensive care, he was riding a Big Wheel down the halls. Most adults would be complaining about having to sit up in bed but Mason had to be told when to stop riding his bike."

Since his transplant, Mason has suffered two post-transplant rejections and endured half a dozen hospital stays, but his health has improved over the past couple of years.

Mason has to take 10 pills a day and goes for blood work once a month in addition to regular checkups at Sick Kids.

Bob said: "We were put in touch with Children's Wish, and they take care of everything: passports, car rentals, accommodation. I can't thank them enough."

The Children's Wish Foundation of Canada was established in 1984 as a national charity with chapters in every province by volunteers who wanted to grant wishes to children with life-threatening illnesses.

Since that time 19,000 wishes have been granted and the Foundation is currently working on wishes for 500 children.

City Chief Administrative Officer Joe Fratesi was on hand to welcome Mason and his family and handed a cheque for $1500 to Mason, the money raised by 150 City employees who attended Thursday's breakfast, with the funding going to the Children's Wish Foundation.

Food was donated by Grand Gardens Banquet and Catering Hall.