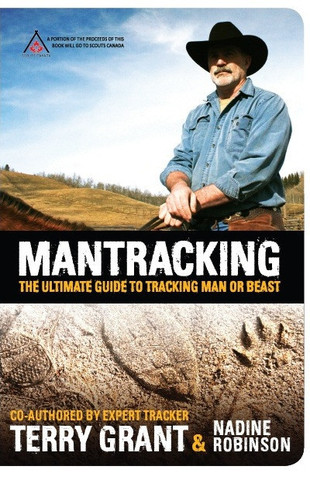 NEWS RELEASE
MANTRACKER TERRY GRANT
*************************
Mantracker Terry Grant hits the Sault November 30, December 1: Cowboys, Books and Hockey
Community invited to book signings and launch party
If you are trying to track down Terry Grant, TV's Mantracker and Canada's favourite cowboy, here is his schedule for this coming Friday and Saturday.
The surprise announcement is that he'll also be dropping the puck at the Greyhounds game on Saturday December 1.
His new book Mantracking: The Ultimate Guide to Tracking Man or Beast releases on November 30, 2012 in the Sault with these events.
The book is not available in bookstores; it is being sold through www.mantracking.ca.
Designed as an introductory guide to tracking animals and humans through any environment, the book is as much about promoting getting outdoors and paying attention to your impact on the environment as it is about stalking prey.
Hunters, Scouts, outdoorsmen, and Search and Rescue can all pick up a trick or two from the book, and there's plenty of stories about Terry's life too to keep fans happy.
On November 30, donations will be collected by Sault Search and Rescue for photos with Terry Grant and the door proceeds at the SpeakEasy will be donated to the United Way for Sault Search and Rescue - a United Way Agency.
$2 of each book sold locally will benefit the Sault Professional Firefighters Charity Fund, and a portion of proceeds is also going to Scouts Canada.
November 30
1) Book sales and signing: Rivercity Motorsports at 1133 Great Northern Road from 4-7 pm , November 30th
2) Book launch party: The SpeakEasy at Algoma University at 8 pm, November 30th
December 1
3) Book sales and signing: Canadian Tire on McNabb 12-2 pm on December 1st.
4) Greyhounds game, puck drop, book sales and signing: Essar Centre on Saturday December 1
For more information on the book and the authors or to secure your limited edition copy of Mantracking: The Ultimate Guide to Tracking Man or Beast go to www.mantracking.ca
*************************