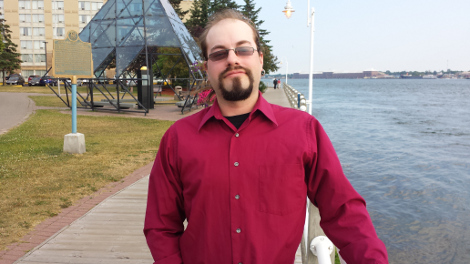 His name is Robin, but his nickname is Batman.
In fact, a YouTube video shows Robin Coull (pictured) campaigning to be Sault Ste. Marie's mayor in the 2014 municipal election dressed as Batman on the Civic Centre's front steps.
Coull, 28, employed as a security guard with North East Regional Security Services, filed his nomination papers Monday and became the latest in a list of five candidates running for mayor of Sault Ste. Marie in the October 27 municipal election.
"That's who I am, I'm into the comics and the Batman costume, that's the way I've always been, I've never been the everyday dude," Coull said, speaking to SooToday.com.
Coull said he does not want to see a city council dressed in superhero costumes, but said "I like to do things differently and I want to transfer that to municipal politics…I want to bring a new, different, positive energy to municipal politics."
"The idea (to run for mayor) came to me back in 2010 (the last municipal election year) and since then I've been thinking of a lot of ideas and suggestions and gotten a lot of support from friends and family and they've said 'you know what, go and do it.'"
Being a security guard, Coull is naturally security-conscious, and, because of the horrid crimes that have shocked our once-innocent, small city in recent years, Coull said "I can hopefully help (as mayor) work with the police and local security companies to make the city safer, and clean up the streets."
Coull said his campaign platform covers a wide range of issues, but said he basically wants to "bring fresh ideas and fresh experiences to our political system and reduce unnecessary spending (at the Civic Centre) but not reduce jobs, because that would only reduce our tax base."
"I want to look at newer ideas that other communities may work with, to see what we can do about the roads so we don't have to work on them as often or spend as much money on them…there might be different road technologies we can look to, like rubber pavement or something of that nature," Coull said.
Rubber pavement has been used in the United States and has been noted for its durability.
"There's more we can do to bring in more, better-paying jobs…we have a beautiful city here and we should use that to our advantage, and advertise it, to attract people here."
"There's a big 'not in my back yard' mentality in the city offices and generally around the Sault, but I want my back yard to be full of life and vitality because the city of Sault Ste. Marie is my back yard," Coull said.
"We need to get council to work with the downtown community to help them reach their full potential."
Coull said he, as mayor, would encourage more redevelopment of old buildings, such as closed school buildings, to be used as youth recreational facilities or long-term care facilities for seniors.
Coull fondly remembered mini-golf and go-kart facilities he enjoyed when he was younger and said there is a need to encourage business people to bring those types of facilities back for the Sault's people to enjoy.
Coull also said there is a need for affordable housing in the community and that property taxes "probably could go down a bit."
Despite the Batman antics, Coull said "I'm not in this to attract attention, I'm in it for results, in a fun way."
Coull joins incumbent Mayor Debbie Amaroso, Ted Johnston, Austin Williams and Heather Cook in the mayoral contest.