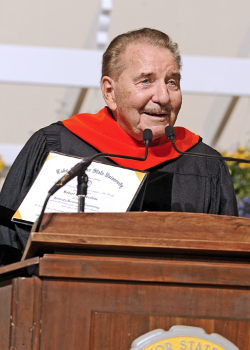 NEWS RELEASE
LAKE SUPERIOR STATE UNIVERSITY
*************************
Nearly 600 receive degrees at Lake Superior State University
SAULT STE. MARIE, Mich. – Nearly 600 graduates received degrees during Lake Superior State University's (LSSU) annual commencement ceremony on Saturday in LSSU's Taffy Abel Arena.
The ceremony included the announcement of Prof. Herb Henderson as this year's Distinguished Teaching Award recipient, as well as remarks from speaker John R. Hantz, Detroit, honorary doctorate recipient Robert Considine, Trout Lake, and student respondent Rose Scheid, Sault Ste. Marie.
The ceremony was the last one for LSSU President Tony McLain, who is retiring this June. McLain, who has spent 42 years working in the education field as a teacher and administrator, told graduates and LSSU faculty and staff that he would miss the Laker family.
"This has been the most challenging, but most rewarding job I've had in public education," McLain said. "I've had the pleasure, and sometimes pain, to get degrees, take classes, and work with at least a dozen other universities other than Lake Superior State. One difference I've noticed here is the often-used phrase 'Laker family.' In all the other universities I've come to know, I don't think I ever heard them speak of their family, at least not like we do.
"To me, it's the Laker family that makes this place unique," he continued. "It also means that you really don't leave LSSU any more than you leave your family. You may relocate, but this university, like your family, will continue to be a part of you, even though we may be separated by miles. My wife Melissa and I have said it over and over, that the great people we get to spend time with is the best part of this job. The students, faculty, administration and staff really take pride in this institution and it especially shows on days like today."
In introducing commencement speaker John R. Hantz, McLain said, "Our goal with a commencement speaker is to bring individuals to the event who are successful in their fields and bring a motivational and inspirational message to our students and the LSSU community. We are pleased to bring Mr. Hantz here today."
Hantz, president and CEO of Hantz Group Inc., encouraged the graduating class to "continue to believe in the American Dream, which is still alive today."
Hantz, of Detroit, talked about how he arrived where he is today, head of the Hantz Group, which has more than 600 employees with 20 offices serving communities in Michigan and Ohio, including an office in Sault Ste. Marie.
Hantz is well known for volunteering in his community.
He earned his bachelor's degree from Northwood University, where he majored in economics, and he is a graduate of the Advanced Management Program at Harvard University Business School. In 2004, he was the recipient of an honorary Juris doctorate from Northwood.
Also during the ceremony, LSSU presented an honorary doctorate to Robert Considine, of Trout Lake, and thanked him for his recent donations to LSSU's Simulation Lab and LSSU's South Hall construction project.
The recent gifts were the latest in Considine's history of supporting education in northern Michigan.
The Navy veteran spent many years in manufacturing and robotics and recently donated his family's Trout Lake retreat to support military veterans.
Wil-Win Lodge and its 600 acres are located just west of Trout Lake.
The 5,000 sq. ft. lodge and associated facilities were donated to the American Legion as a haven for veterans and their families to overcome the trauma related to their military service.
It now serves veterans, scout troops, Wounded Warrior events and more with a new commercial kitchen and dining facilities.
Each year, the graduation ceremony includes remarks from a representative of the graduating class.
This year's student respondent was Rose Scheid of Sault Ste. Marie.
The Sault Area High School graduate zipped through her degree in just three years to finish summa cum laude.
Her next stop is Michigan State University School of Law.
"Today marks the end of our college education, but it also marks the beginning of our future," Scheid said. "Though not every step we take in our lives after we exit this building will be easy or painless, I see a bright future for the graduating class of 2014.
"The single most important lesson that LSSU has taught me is to live and work through both the good times and the difficult times," she continued. "LSSU has taught all of us how to handle both of these situations. Sometimes life is great; we have just completed a huge project, we have put on a successful event for our club, or we have achieved recognition for our hard work. In our future we will face good times like this and LSSU has taught us to enjoy them with gratitude and humility.
"Sometimes life is hard; we don't agree with our professor about having to do an assignment, we disagree with administrators about school policies, or we face a budget crisis. There will be times in the future that mirror these situations. LSSU has taught me to be inventive, to receive criticism, and how to work in difficult situations. This is something that we have all learned during our time here and it will mean more to us than anything else. LSSU helped form us into the characters we will have for the rest of our lives and this is the best thing that we will receive from this university."
Scheid concluded by saying, "Today LSSU gives us a degree. Starting on Monday, we give LSSU a lifelong gift: that we, successful men and women, graduated from this university."
*************************
(PHOTO: Robert Considine is pictured during Saturday's LSSU convocation. Photo courtesy LSSU.)