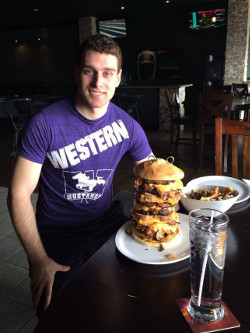 Survivor's Eye of the Tiger blared over the sound system at an east-end pub on Monday afternoon as Jonathan Clarke choked down the last greasy morsel of the Harp Attack Challenge.
And with that, the meat was officially beat.
"I didn't take a 12-hour bus ride to lose this challenge," said Clarke, a 23-year-old music student from London, Ont. who travelled to the Sault for the sole purpose of taking on the Harp Bar & Grill challenge.
In case you don't know, this is the Harp Attack Challenge: a six-pound burger made up of six patties, two grilled cheese sandwiches, a pound of bacon, cheese and a couple onion rings thrown in for good measure.
Not only that, but a Harp Attack Challenger must slurp down a full pound of poutine - all before an hour runs out.
Clarke is the first to cram the massive meal down his gullet (though, we should note it didn't all stay down) and the first to take away the Las Vegas trip offered up by the Pine Plaza establishment.
John Perri, the bar's manager, said after watching 21 others try and fail to eat his burger, he was relieved to see Clarke polish it off.
The pub started offering the challenge in January, hoping to drum up interest and Perri said it has worked.
"It brings atmosphere to the place, and everybody in the place cheers them on," he said.
He said he went out of his way to better other restaurant challenges - most, he said, top out around five pounds - and he had started to worry that people were getting discouraged.
Enter Clarke.
"He just proved it's not impossible. He's not a very big guy," said Perri.
If anyone was going to do it, Clarke was a good bet.
The fourth-year Western University student has made it his mission over the last six months to tackle such challenges and post his adventures on a YouTube channel called Junkfood Bodybuilding.
His previous triumphs include downing 75 Reese's Peanut Butter Cups in one go, gobbling up two pounds of butter, and eating all 11 of Burger King's burger offerings in a single sitting.
"This was something. I've done a lot of challenges and (the Harp Attack) was possibly the toughest," said Clarke.
A body builder and healthy eater most of the time, the challenges give new meaning to the term 'cheat day' but the relatively trim Clarke said it tends to work out as long as he sticks to his regular diet the rest of the week.
His time in the gym actually comes in handy when it comes to eating big, he said.
"The closest thing I compare it to is when you're in the gym and you're trying to push through those last few sets," said Clarke, who brought up at least part of the Harp Attack Challenge about 10 minutes after conquering it.
(PHOTO: Jonathan Clarke poses with the Harp Attack Challenge on Monday before becoming the first person to gobble down the massive meal for a free trip to Las Vegas. Photo courtesy Harp Bar & Grill)