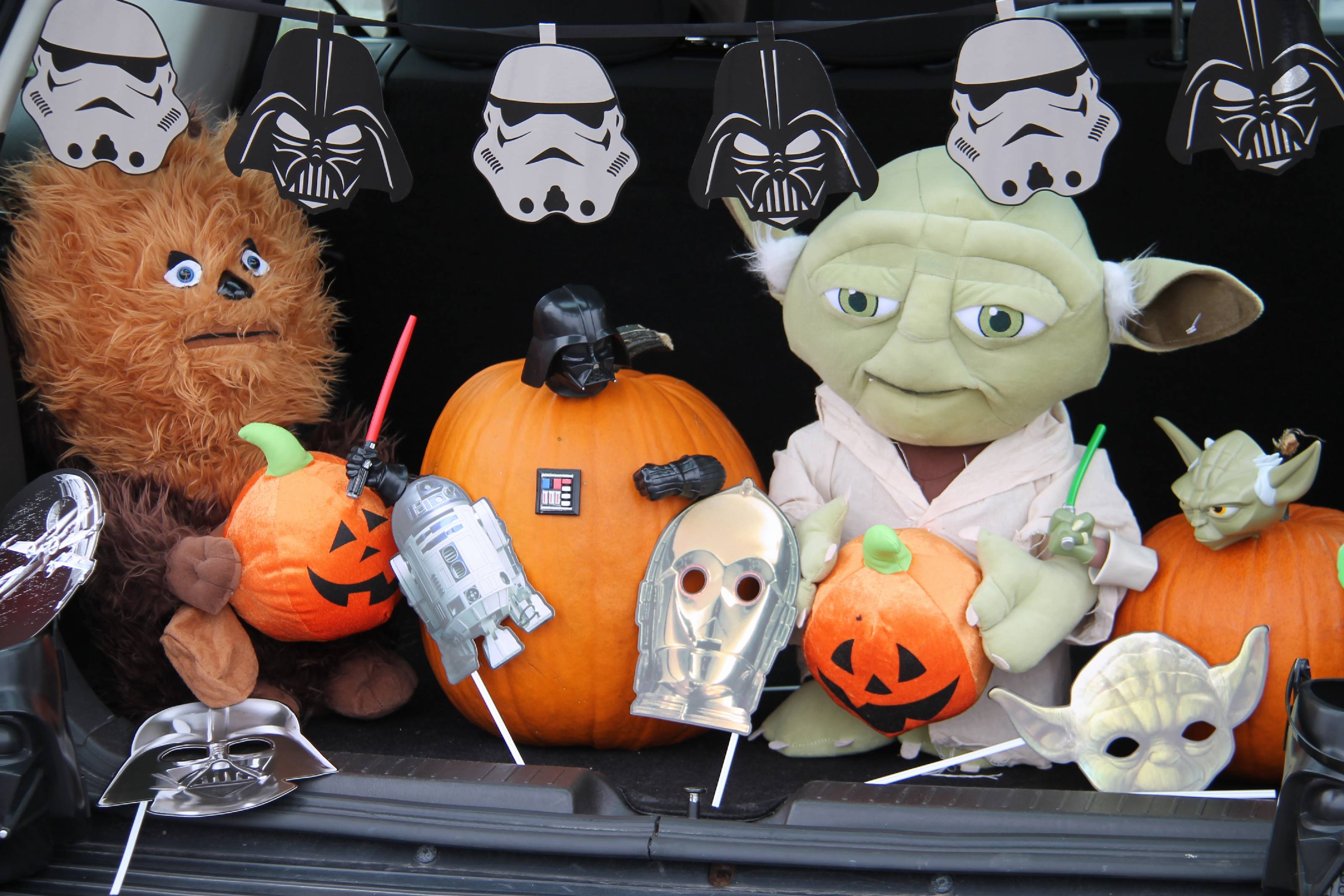 Not every child can easily go out for trick or treat on Halloween.
With that in mind, participants in the Sault's second annual Trunk or Treat event, organized by the Algoma Autism Foundation, delivered Halloween goodies to children on the autism spectrum and other special needs children Saturday.
Participating families and local businesses brought their vehicles, the trunks packed with treats for children, and elaborately decorated with a Halloween, sports or entertainment theme, to the parking lot at Northern Grand Gardens on Great Northern Road.
Happily circulating the secured parking lot (the space donated for the afternoon by Northern Grand Gardens), and accompanied by adults, the children visited each vehicle and received treats from the owners of each goodie-stocked car and truck.
Most of the families and business employees were themselves dressed in some sort of theme.
In fact, it was difficult to tell Saturday who enjoyed it all more, the children or the organizers.
Jamie and Jessie Boston of the Algoma Autism Foundation, who have a seven-year-old son on the autism spectrum, were on hand Saturday afternoon.
"It's a fun day and not intimidating for them…most kids on the autism spectrum, it can be chaos on Halloween for them, it's dark and noisy and going to people's doors, so today they can dress up and go trunk to trunk, they love it," Jessie told SooToday.
"This is a very safe place."
"(It's easier for ) the people in wheelchairs, this is more inclusive," Jessie said.
Last year's inaugural Trunk or Treat was held at the Royal Canadian Legion but this year, a bigger parking lot was needed, meaning the event has grown in popularity already because of word-of-mouth and social media.
20 trunkers were on hand for 80 children last year, whereas this year 26 trunkers were there to bring some Halloween cheer to 120 children.
Parents had to pre-register so that trunkers could know how much candy to pack for the children.
Saturday's event was not a fundraiser, Jessie said.
"We put it on for all special needs children and their families, everything's free, popcorn and cotton candy is free, everybody in the community and local families and businesses have donated the candy."
"We raise funds through the year and there have been a couple of donations (at Saturday's event) but we try and do some free events just for fun."
Northern Dental Care, Northwood Funeral Home and Northcrest Bowling Lanes are among business sponsors who have helped the Algoma Autism Foundation's efforts to care for children on the autism spectrum in our area.
(PHOTO: One of many themed trunks at the second annual Trunk or Treat event, October 3, 2015. Darren Taylor/SooToday)