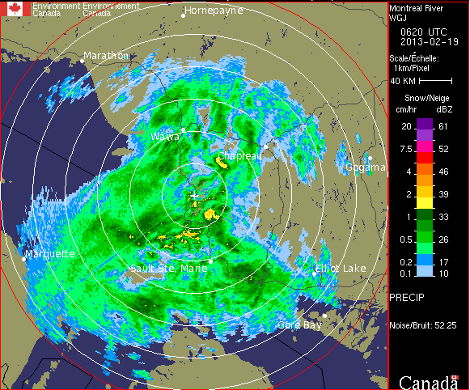 ENVIRONMENT CANADA
SPECIAL WEATHER STATEMENT
*************************
SPECIAL WEATHER STATEMENT FOR: LAKE NIPIGON - WABAKIMI - GERALDTON - LONGLAC - CARAMAT - NAKINA - AROLAND - PAGWA - NIPIGON - MARATHON - SUPERIOR NORTH - GREATER SUDBURY AND VICINITY - CHAPLEAU - GOGAMA - MANITOULIN - BLIND RIVER - KILLARNEY.
SIGNIFICANT SNOW TONIGHT THROUGH TUESDAY.

SPECIAL WEATHER STATEMENT ENDED FOR: CITY OF THUNDER BAY - KENORA - NESTOR FALLS - DRYDEN - IGNACE - FORT FRANCES - RAINY LAKE - ATIKOKAN - UPSALA - QUETICO - SUPERIOR WEST - RED LAKE - EAR FALLS - SIOUX LOOKOUT - SAVANT LAKE - SAULT STE. MARIE - ST. JOSEPH ISLAND - SEARCHMONT - MONTREAL RIVER HARBOUR - BATCHAWANA BAY - ELLIOT LAKE - RANGER LAKE.
A LOW PRESSURE SYSTEM CURRENTLY NEAR MARQUETTE IN UPPER MICHIGAN AND A SECOND LOW NEAR GREEN BAY WILL MERGE OVERNIGHT AND INTENSIFY INTO A WINTER STORM ONCE IT REACHES THE SAULT STE. MARIE AREA BY MORNING.
THE STORM CENTRE WILL CONTINUE A SLOW EASTWARD TREK JUST NORTH OF LAKE HURON AND GEORGIAN BAY ON TUESDAY.

AREAS NEAR LAKE NIPIGON AND NORTH OF LAKE SUPERIOR WILL BE NEAR THE NORTHERN EDGE OF THE SNOW SHIELD FROM THIS STORM WITH SNOW AMOUNTS RANGING FROM NEAR 5 CM IN THE LAKE NIPIGON REGION TO 10 TO 15 CM NEAR THE NORTH SHORE OF LAKE SUPERIOR.
BRISK NORTHERLY WINDS WILL ALSO CAUSE REDUCED VISIBILITY IN BLOWING SNOW IN EXPOSED AREAS ESPECIALLY ON TUESDAY.

OVER NORTHEASTERN ONTARIO ACROSS A LARGE SWATH OF REGIONS EXTENDING FROM WAWA TO SAULT STE. MARIE NORTHEAST THROUGH TIMMINS AND KAPUSKASING A MAJOR SNOWFALL IS NOW UNDER WAY AND WINTER STORM WARNINGS REMAIN IN EFFECT.
FOR REGIONS EXTENDING FROM JUST EAST OF ST. JOSEPH ALONG THE NORTH SHORE OF LAKE HURON INTO THE NICKEL BELT AND NIPISSING AREAS, A SIGNIFICANT SNOWFALL IS LIKELY WITH SNOWFALL AMOUNTS IN EXCESS OF 10 CM TONIGHT, PARTIALLY DUE TO ADDED MOISTURE FROM LAKE ENHANCEMENT.
HOWEVER, IT WILL LIKELY BECOME MIXED WITH OR CHANGE TO RAIN FOR A FEW HOURS BEFORE CHANGING BACK TO SNOW AS MUCH COLDER AIR ARRIVES IN THE WAKE OF THE STORM CENTRE.

IF TEMPERATURES REMAIN A LITTLE COLDER THAN EXPECTED, SNOWFALL AMOUNTS MAY BE HIGHER IN AREAS NORTH OF LAKE HURON, AND EITHER WINTER STORM OR SNOWFALL WARNINGS MAY BE REQUIRED.

THE SNOW WILL CONTINUE IN MANY PARTS OF NORTHEASTERN ONTARIO ON TUESDAY BEFORE TAPERING OFF LATE IN THE DAY OR TUESDAY NIGHT WHEN THE STORM CENTRE HEADS TOWARDS SOUTHERN QUEBEC.
DRIVING CONDITIONS WILL QUICKLY BECOME HAZARDOUS DUE TO VERY LOW VISIBILITY IN AREAS OF HEAVIER SNOW AND BLOWING SNOW.
UNTREATED ROADS MAY QUICKLY BECOME SNOW COVERED. MOTORISTS SHOULD ADJUST TRAVEL PLANS ACCORDINGLY.

THE PUBLIC IS ADVISED TO MONITOR FUTURE FORECASTS AND WARNINGS AS WARNINGS MAY BE REQUIRED OR EXTENDED.
*************************