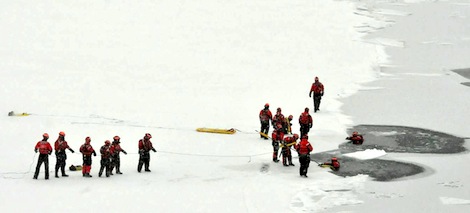 ABRIDGED NEWS RELEASE
UNITED STATES COAST GUARD
*************************
Coast Guard ice rescue team members from Coast Guard Cutter Mackinaw conducted ice rescue training in Lake Munuscong, south of Sault Ste. Marie, MI on January 25, 2013.

Coast Guard members throughout the 9th Coast Guard District have been taking advantage of opportunities to train for potential rescues on the ice after a cold spell created more ice within the region.

Below, Coast Guard ice rescue team members watch with spotlights on Chief Warrant Officer Richard Berg as he rescues Petty Officer 2nd Class Zachary Emery.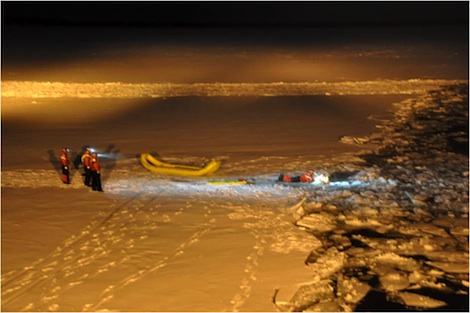 Below, Berg rescues Emery.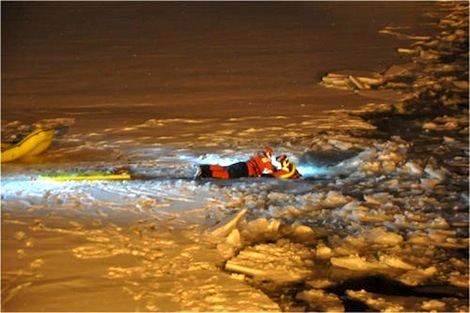 Proper precautions should always be taken before heading out on the water or the ice.
When venturing out, a person should think I.C.E.:

Intelligence: Know the weather and ice conditions, know where you are going, and know how to call for help.
Never go out alone.

Clothing: Have the proper clothing to prevent hypothermia.
Wear a waterproof exposure suit and a life preserver.

Equipment: Have the proper equipment.
Carry two ice picks or screwdrivers, in case you fall in.
Use these items to dig into the ice and pull yourself out.
They are more effective than bare hands! Carry a whistle or noise maker to alert people that you are in distress.
Carry a cellular phone or marine band radio in a waterproof container so that you can call for help if you come across trouble.
U.S. Coast Guard photos courtesy of Coast Guard Cutter Mackinaw.
*************************