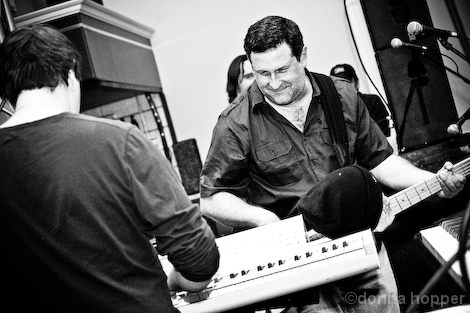 Once the 90 guests were settled in nicely at the Grand Gardens, the lights dimmed, Fritz Lang's 1927 classic Metropolis began, and the band took the stage in a wash of red light.

This was the scene last evening as local prog rockers Machines Dream celebrated the release of its debut self-titled album.

Craig West (vocals, bass, guitar), Keith Conway (guitar, vocals), Ken Coulter (drums), and Brian Holmes (keyboards, bass, general rockin' out and head-banging) played the record in its entirety, as well as a half-hour, one-song encore that featured an epic shredophone (not to be confused with saxophone) solo from Josh Norling.

All of this followed a beautiful opening set from the Sault's finest Greek singer songwriter, Joseph Kargi.

Machines Dream began when West and Holmes grew tired of playing in bar bands and got together to just noodle around with the music they really love - prog rock.

"It started out as just four guys just playing around," West told SooToday.com. "We did what we wanted to do and figured no one else would like it, so we just played in my loft. Then suddenly, a bunch of songs began to form."

Approximately two years in the making, the Machines Dream album was created in West's own studio, Bear Dog Digital, where Mr. Kargi's recently released EP was recorded and Leaves Off Trees is currently putting together its debut recording.

Never heard of Leaves Off Trees?

"It's sort of if Bruce Springsteen's Born To Run album and The Clash's London Calling were to have had a love child in Newfoundland, that is the sound of Leaves Off Trees," West explained. "It's very cool."

"Like any good scientist will experiment on themselves first, that's what the Machines Dream recording session was," West continued. "We were my first attempt to get recording right. After that, I felt comfortable working with other people."

For a few reasons, not the least of which being the forthcoming fatherhood of two band members, Machines Dream has no gigs booked any time in the near future.

"We don't really make sense in a bar," West said. "We make more sense in a controlled environment like this. We'd rather do quarterly shows and really make a production of it."

The band religiously gets together twice a week to jam and write, and will soon begin recording its follow-up CD.

The album celebrated last evening will soon be available for purchase at the Rad Zone in the Wellington Square Mall, and is currently for sale via Indie Pool and iTunes.

Although last night's gig was likely your last chance to catch Machines Dream live for quite some time, Coulter and West are part of Monsters Live Here, a completely unrehearsed and unscripted jazz rock fusion experiment that includes Jeff Holmes on keys and Josh Norling on sax.

"We don't even as much as talk before a gig," West told us. "We just turn up and play. Someone calls out a chord progression and we go."

Monsters Live Here perform at Loplops (651 Queen Street East) on Saturday, March 24 starting at 10 p.m.
For more information about Machines Dream, visit www.machinesdream.com