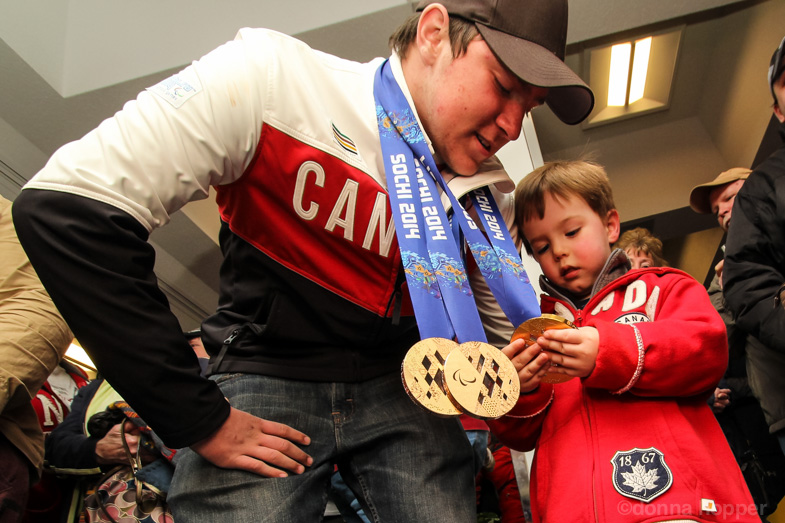 For visually impaired alpine skier Mac Marcoux, the highlight of the 2014 Paralympic Winter Games in Sochi, Russia happened immediately following his gold-medal giant slalom run on March 15.

As he completed his run, Mac told SooToday.com that his brother B.J. leapt out of the stands and dodged security personnel to offer his congratulations in the form of a giant hug.

"That was the best part [of the Paralympics] for sure," Mac said last night as the brothers arrived home to a crowd of friends and family at the Sault Ste. Marie Airport.

Normally, B.J. would act as Mac's guide down the hill through radio communication.

However, shortly after arriving in Sochi, B.J. was forced to withdraw from competition due to a back injury as Robin Femy from Mont-Tremblant, Quebec stepped in to fill his ski boots.

Both brothers appeared overwhelmed and somewhat speechless with the raucous reception that greeted them at the airport last evening as hundreds gathered to offer congratulations and share in Mac's achievements.

In addition to the gold, the Sault 16-year-old Paralympian also brought home two bronze medals, including one he and Femy earned after discovering their radio communication system had malfunctioned into the men's Super-G run.

But it wasn't just well-wishes given to the boys last night.

As the crowd began to thin, the Marcoux Brothers were presented with a brand new Bernese Mountain Dog puppy to bring a happy twist to a somewhat heartbreaking story.

Just prior to their departure for Paralympic training, the Marcoux Brothers found out their beloved dog Charlie had been diagnosed with cancer, B.J. told us today.

Unfortunately, Charlie passed while the family was away in Sochi.

"That was really hard because we were really close with Charlie," B.J. said. "It was made even harder because I couldn't ski with Mac."

B.J. said once everyone is home and rested, the family will decide on a name for the new pup.

For those who missed last night's homecoming festivities, the City of Sault Ste. Marie will host a celebration at the Essar Centre on Thursday, April 3 to honour the Olympic/Paralympic accomplishments of the Marcoux Brothers, Team Jacobs and Ted Nolan.

For more information about this event, please click here.
For video highlights from last night's airport homecoming, please click here .