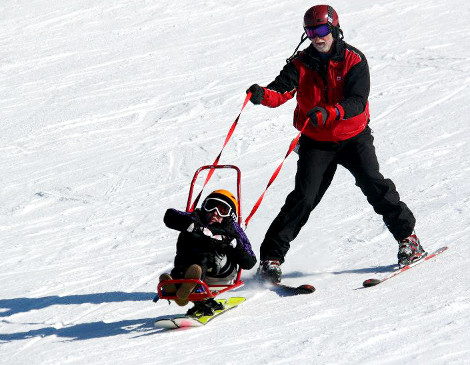 It seems Mac Marcoux is doing more this week than careening down hills and winning medals - he's also providing inspiration back in his hometown for athletes with disabilities.
Shannon Gowans, who took up adaptive skiing three years ago, said she thinks what Marcoux has done is "absolutely amazing."
Gowans doesn't have a visual impairment like Marcoux, but having been born with spinabifida, she said she tries to challenge herself whenever she can.
As she rode the lift at Searchmont on Sunday, her skiing partner, Meili Betty, turned to her and asked if she wanted to give the slalom course a go.
It was a first for Gowans, 31, but with Marcoux's medal-winning run that day still fresh in her mind, she said she could't resist.
"I figured if he can do this, there's no reason I can't too," Gowans said. "It was a lot of fun."
Marcoux, the 16-year-old St. Basil Secondary School Student who has impressed the nation with two bronze medals at the 2014 Sochi Paralympic Games, isn't finished yet.
He's slated to compete in the visually impaired giant slalom on Saturday (1:30 a.m. Sault time).
As he continues to compete, Diane Morrell expects there will be a number of local athletes with disabilities who will draw inspiration from Marcoux's performance in Russia.
Morrell, who is a board member for the No Limits Adaptive Ski Association and an adaptive skier herself, said there aren't any visually impaired skiers with the group, but she said she thinks people - especially young people with disabilities - are certainly drawing something from Marcoux.
Marcoux has learned to ski by using a radio to communicate with his guide (normally his brother B.J.) up ahead while he blasts down the hill at upwards of 100 kilometres per hour.
"It's very easy to limit yourself as a person with a disability - to say 'I can't do that' or 'I'm not able to do that,'" said Morrell. "I think Mac has inspired us all to reach a little bit deeper within ourselves."
Gowans said things were certainly different when she was growing up.
"I ended up sitting on the sidelines a lot," said the Sault College child and youth worker program grad.
She said she hopes Marcoux's notoriety pushes schools to highlight what people with disabilities can do, not only for students with disabilities.
"For other kids, so they can see kids with disabilities can do anything, just in a different way," said Gowans.
Morrell, who is also a member of the city's accessibility advisory committee, said she too hopes local schools are following Marcoux closely. It's March Break, but she said the Paralympics, which don't receive the same level of coverage as the Olympics, can be all too easy to ignore.
"Mac and B.J. have brought it home to us - now we've got a Paralympic athlete in our home town," said Morrell.