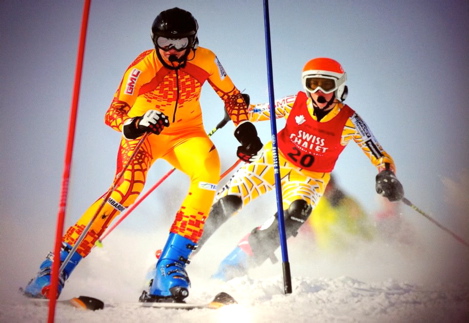 NEWS RELEASE

ALPINE CANADA

***************************
Marcoux, Joines claim gold, two silver, bronze at Colorado IPC World Cup

Four podiums in two days for duo at tech series

COLORADO, USA - Mac Marcoux and Kimberly Joines are on a podium hot streak at the International Paralympic Committee (IPC) Alpine Skiing World Cup in Colorado, USA, where the para-alpine athletes have racked up two podiums each in two days of giant slalom and slalom racing, including a victory by Marcoux.

Marcoux, who skis in the visually impaired category and is guided by his older brother, BJ Marcoux, won his second career IPC World Cup on Friday when the pair took gold in men's giant slalom, winning by more than seven seconds.

The siblings were back on the podium again Saturday, earning second in slalom.

Joines was third in giant slalom – her second World Cup giant slalom bronze in a week – and second in slalom thanks to two hard-charging runs.

"It was pretty exciting," said Mac of his giant slalom victory. "The very first thing I thought of when I got to the bottom was that it was my first World Cup win with BJ guiding me. It feels like a step ahead; good, and kind of special."

Mac racked up the first World Cup win of his career in August in New Zealand, but BJ was sidelined due to injury, so this is the first victory that the brothers, of Sault Ste-Marie, Ontario, have earned together.

Their two-run combined time of one minute, 52.89 seconds dominated the men's visually impaired category.

Italy's Alessandro Daldoss was second in 2:00:22, and Ivan Frantsev, of Russia, was third (2:01.34).

"We came down after the first run, and it didn't feel great, but I think we held it together well and had fewer mistakes than lots of other people," Mac said.

With nearly a four second advantage following the first run, he was able to add more than three seconds onto his lead in the second. "In the second run we went for it and tried to stay on top. It played out well."

The duo continued to push in Saturday's slalom, and their decision to "really go for it" paid off with a second-place finish in a two-run combined time of 1:19.14.

Russia's Valerii Redkozubov was first (1:18.60) and Frantsev was third (1:25.22).

"First run we came out of the start as hard as we could, and when we came down we were second by around one-tenth of a second," Mac said. "In the second run we had a couple of little bobbles on the course because it was getting a little rough, so we got thrown around a little bit, but we held it together and came out second. I am pretty stoked."

Mac, 16, now has four World Cup podiums this season, including two wins.

"I think our confidence level has come up a lot since last year," Mac said of his first year racing on the World Cup circuit at just 15 years old. "We're a lot more comfortable with the whole environment of the World Cup, and our confidence is getting better every race. It seems to be working out."

Sit-skier Joines, of Rossland, B.C., who has more than 40 World Cup podiums to her name, claimed two more.

The veteran said the results validate her decision to focus on slalom and giant slalom events this season.

"These latest results feel really good. I've been training hard and focusing all of my efforts on these two events," Joines said. "In making that decision to specialize, I knew I'd have to produce consistently in (slalom and giant slalom) to make it worthwhile dropping some other events that I was also good at. So results like these are rewarding and help confirm that I made the right decision."

Following a third place in giant slalom on Friday, Joines kicked into an even higher gear on Saturday to take second place in slalom.

"Today I charged really hard both runs," said Joines, who clocked a two-run combined time of 1:28.24. "It was probably some of the most speed I've ever carried in a slalom course, with how open the course was set and how much I was charging. I feel pretty happy with that."

Germany's Anna Schaffelhuber won in 1:25.01, and Anna-Lena Forster, also of Germany, was third (1:33.80).

"Today Kimberly really closed the gap. All of the coaches and staff are really happy with the way she skied," said Brianne Law, athletic director of the Canadian Para-Alpine Ski Team. "She charged so hard in the second run. Mac and BJ absolutely killed it with their win on Friday. We are super happy with their performances."

In Friday's giant slalom, sit-skier Caleb Brousseau, of Terrace, B.C. was ninth, Josh Dueck, of Kimberley, B.C., finished 13th, and prospect athlete Kurt Oatway, of Calgary, Alberta, did not finish.

Standing skier Matt Hallat, of Coquitlam, B.C., was eighth, Kirk Schornstein, from Spruce Grove, Alberta, finished 16th, and Duncan, B.C's Braydon Luscombe did not finish.

In the women's standing category, prospect athlete Erin Latimer, of Etobicoke, Ontario, was ninth, and Calgary, Alberta's Alexandra Starker was 10th.

In Saturday's slalom, sit-skiers Brousseau and Oatway were ninth and 10th, respectively. Schornstein was eighth in the men's standing category, and Starker and Latimer were fifth and seventh, respectively, in the women's standing category.

Luscombe and Hallat did not finish, and Dueck did not start due to illness.

The Canadian Para-Alpine Ski Team has two more days of racing at the IPC Alpine Skiing World Cup in Colorado, and will race slalom again on Sunday and giant slalom on Monday.

The team will be in Calgary on January 21 to receive official nomination to the Canadian Paralympic para-alpine team that will compete in Sochi, Russia, in March.

All of the athletes have met criteria to be nominated to the team.

About Alpine Canada Alpin

Alpine Canada Alpin is the national governing body for alpine, para-alpine and ski cross racing in Canada.

With the support of valued corporate partners along with the Government of Canada, Own the Podium and the Canadian Olympic Committee, Alpine Canada develops Olympic, Paralympic, world championship and World Cup medallists to stimulate visibility, inspiration and growth in the ski community.

Please visit us at www.alpinecanada.org. 

Follow our ski teams on Facebook, Twitter, and Instagram.

***************************