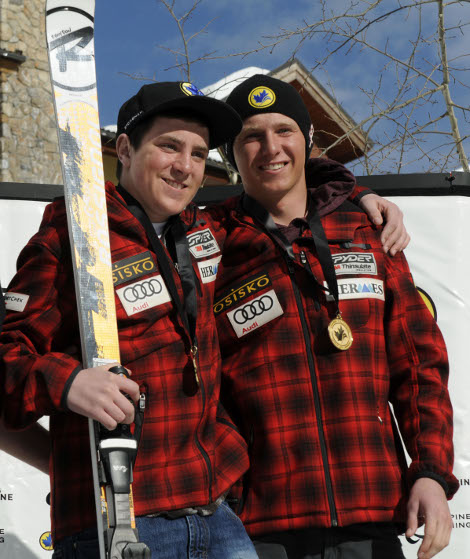 BJ and Mac Marcoux have been selected to receive a plaque on the Sault Ste. Marie Walk of Fame, says the Downtown Association on Thursday.
"That's crazy, it's such a good feeling knowing all the hard work does pay off," said BJ Marcoux.
His brother Mac, who won multiple medals in Sochi is currently taking part in dry-land training in Whistler, BC.
The Marcoux Bros. will join Team Jacobs on the Walk of Fame, who were awarded the honour in 2013.
Newspaper man Lester Pyette will share the honour with the brothers for the 2014 honour.
"That's fantastic, I know when we got that last yearit was a big honour," said Brad Jacobs, who looks forward to sharing the sidewalk with the duo.
"Those guys are great and it's such an honour to be right beside them," said Marcoux.
SooToday.com reached BJ by phone in Sault Ste. Marie, where he continues to recover from the back injury that prevented him from medaling with his brother during the Paralympic WInter Games.
The pair won a silver medal together at the 2013 World Championships.
"My back recovery has been going quite well," said Marcoux, who hopes to join his brother in Switzerland in September to continue their traininig together.
"You never think that you're going to have your name on the street where people are going to be walking," he said.
"To have done something like they did for our city, they deserve that. Hats off to them," said Jacobs.
Full text of a news release issued today by the Downtown Association follows.
*************************
NEWS RELEASE
CITY OF SAULT STE MARIE/
DOWNTOWN ASSOCIATION
*************************
The Sault Ste. Marie Walk of Fame Selection Committee is pleased to announce the recipients of the 2014 Walk of Fame Award.
This year's winners are Canadian newspaper Hall of Fame member Lester Pyette and Paralympians Mac and BJ Marcoux.

The Walk of Fame Award recognizes individuals who have achieved a provincial, national or international excellence in a competitive athletic endeavour or cultural, academic or humanitarian field.

Walk of Fame Awards are granite maple leaves embedded in the Queen Street sidewalk in the vicinity of the Essar Centre.

This is a joint project of the City of Sault Ste. Marie and the Downtown Association.
The 2014 Walk of Fame Award recipients will be honoured at a public ceremony in September.
Lester Pyette

Proud Saultite and legendary newspaper man, Les Pyette spent 41 years in the news business.
Beginning in his hometown, Pyette was a sports writer with the Sault Daily Star from 1963 to 1967.

Pyette's career soared to include positions as city editor of the Toronto Sun, founding editor-in-chief of the Calgary Sun, executive editor Toronto Sun, general manager Calgary Sun, publisher and CEO of the Calgary Sun, the London Free Press and the Toronto Sun, and vice-president of Sun Media before he retired in 2003.

He returned to the news business as publisher and CEO of the National Post in 2004-2005.
In 2013, Pyette was named to the Canadian News Hall of Fame.

Mac and BJ Marcoux

Born in Sault Ste. Marie, brothers Mac (16) and BJ (19) Marcoux have achieved international success in para-alpine skiing.

The brothers burst onto the IPC World Cup scene in 2013 scoring three World Cup finishes and a silver medal at the World Championships in La Molina, Spain.
This impressive duo races in the visually–impaired category with BJ guiding Mac.

In March 2014, Mac became a three-time Paralympic medalist, winning gold in Giant Slalom and bronze in Downhill and Super-G at the Sochi Paralympic Winter Games.
*************************