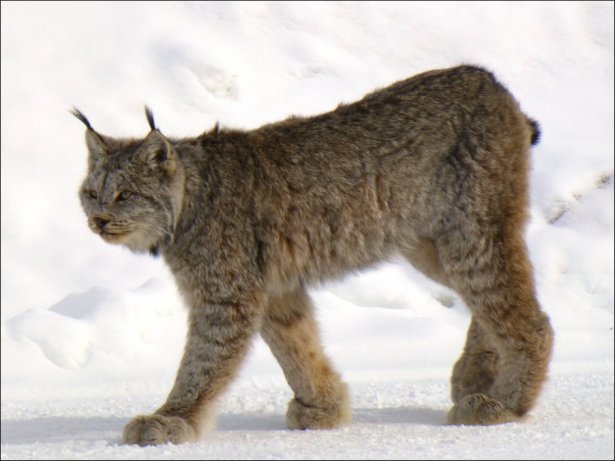 More Lynx sightings were reported today in the area of Texas Avenue and Bristol Place.
Taylor Trecroce spotted the big cat on the Hub Trail behind Texas Avenue and captured some terrific pictures of the cat-about-town.
View more new photos here.
************************
Earlier story: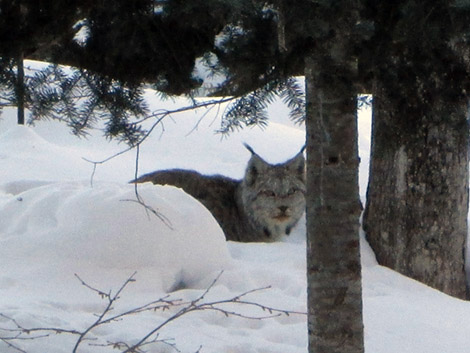 Photo submitted by loyal SooToday.com reader Melanie Beaulieu shows the lynx or bobcat spotted in the P-Patch Tuesday, February 11.
Another loyal SooToday.com reader just called in another sighting of a what she believed was a lynx.
The lynx or bobcat was seen at the end of Sutton Place not far from other lynx sightings so it would seem it may be the same big-footed cat roaming the area.
"I called the police and they said to call the MNR," said our reader who didn't want to be identified. "I tried calling the MNR but they aren't open today."
She said she had a good scare when she looked up and saw the big cat calmly watching her.
When she reacted the cat just vanished into the forested area at the end of the road.
"I think it should be noted that the cat is roaming the area so people are aware and more cautious," she said.
A Ministry of Natural Resources website says that lynx encounters are exceedingly rare due to their shy nature but they do happen.
"Bobcats and lynx may prey on pets, causing concern for residents," says the site
These big cats prefer to eat rabbits and other small animals but will go for other animals if they are readily available and the cat is hungry enough.
If you encounter a cougar, lynx or a bobcat, the ministry site says the following:
Never approach the animal, especially if it is near a kill or with young, and never offer it food.

Released or captive-reared cougars may be accustomed to humans and allow you to get close. Nevertheless, animals are unpredictable, and you should always exercise caution.

If you see a cougar or lynx, stop, pick up small children and don't run. Remember, its instinct is to chase.

If you're with others, stay together and act as a group. Children and pets should be kept very close.

Face the animal. Talk to it firmly while slowly backing away. Always leave the animal an escape route.

Do not crouch down or try to hide. Try to appear larger.

Do not take your eyes off the animal or turn your back.

If the animal does not flee, be more assertive by shouting, waving your arms and throwing anything available.

If the animal attacks, fight back with everything you have.
************************
Earlier SooToday.com coverage of this story