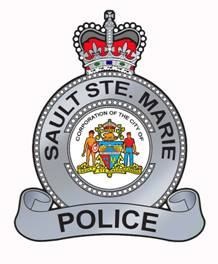 CITY POLICE

NEWS RELEASES

*****************************
On December 22, 2012 Sault Ste Marie Police Officers charged 23 year old Lucien Charette of 229 Poplar Avenue with utter threat to cause death or bodily harm and breaching his probation order.
On December 21, 2012 Lucien Charette had attended an address with a pipe in his hand and threatened to kill the resident inside.
He will be attending court on January 21, 2013.
* * *
City police checked a male at 5:20 AM after a report of vehicles being entered in the vicinity of Gore St.
The male initially identified himself to the police as someone he was not.
When one of the officers recognized who he really was, the male took off running.
He was caught during a foot pursuit and arrested.
Charged is Tyler Wynne (age 19) of 34 Wellington St W #1 with resisting arrest, breach of probation x 2 and breach of recognizance x 2.
He will be appearing in bail court on Monday.
* * *