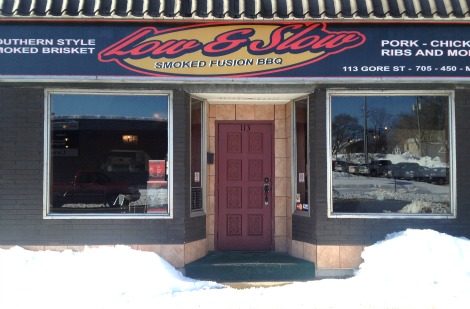 There are new fresh eats in the Sault to tempt your tastebuds.
Low and Slow Smoked Fusion BBQ opened last Friday at 113 Gore Street.
SooToday.com spoke to owners Blake and Jen Richards, and Chad Stewart, who were excited to have renovations completed so they could open the doors to hungry guests last Friday.
They consider themselves big 'foodies' and have travelled down south in the U.S where they fell in love with the slow cooked BBQ offerings to be found everywhere.
After scouting a few locations for the restaraunt they decided on the Gore Street spot because of the open concept kitchen, allowing interaction with the customers.

The specialty of course is smoked meat, brisket and pulled pork.
All the meat is smoked for approximately five hours and then continues cooking at low temperature for another 10 hours.
They offer daily lunch specials like Shrimp Po-Boys, Jerk Chicken and Biscuits and Gravy to name just a few.

One of the more interesting menu items is Succotash and believe it or not, smoked cheesecake!
Yep they have smoked cheesecake too!
You can check out their full menu by clicking here.