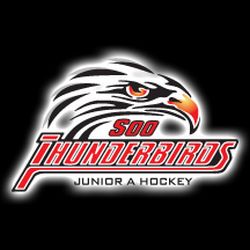 You can forgive the Soo Thunderbirds if they've forgotten what it's like to lose.
Thanks to a 5-0 win over the Elliot Lake Bobcats in Northern Ontario Junior Hockey League action on Saturday night, the Thunderbirds have won 19 games in a row.
They've been even better on home ice where they have now gone undefeated in 21 games to start the season. The last time the Soo Thunderbirds lost a game on home ice was Feb. 23, 2013 when they dropped a 5-2 decision to the Sudbury Nickel Barons, a span of 24 games. Since the start of the 2012-13 NOJHL season, the Thunderbirds have posted a 40-3-2 record on home ice.
On Saturday night, Brian Kment made 15 saves as the Thunderbirds shut out the Bobcats. Darcy Haines had a goal and three assists to pace the Thunderbirds offensively. Gavin Burbach scored a pair of goals in the win. Anthony Miller and Joey Miller also scored for the Thunderbirds.
Alex Bitsakis got the start and stopped 30 shots for Elliot Lake in the loss.
With the win, the Thunderbirds record improves to 37-4-0-2 as they sit atop the NOJHL standings with 76 points through 43 games. The Kirkland Lake Gold Miners are in second with a 32-6-0-3 record and two games in hand while trailing the Thunderbirds by 11 points. Kirkland Lake was off on Saturday night.
Other NOJHL action on Saturday evening saw Abitibi beat Espanola 5-3 thanks to a goal and two assists each from Brady Clouthier and Ryan Tront. Brendan Locke chipped in with a goal and an assist for Abitibi in the win. Byron Sam had a goal and an assist for Espanola.
In Saturday's other game, Jacob Zarzycki scored at 5:57 of the third period to lift the Blind River Beavers to a 2-1 win over the Sudbury Nickel Barons. Blind River goaltender Jessie Morin made 35 saves for Blind River in the win. Tyler Shanush also scored for Blind River. Patrick Lepage had the lone goal for Sudbury.
Next up for the Thunderbirds is a road game on Jan. 29 when they're in Sudbury to take on the Nickel Barons. The team then returns home for a pair of games, on Jan. 31, they host the Abitibi Eskimos while the following night they will again host Elliot Lake.