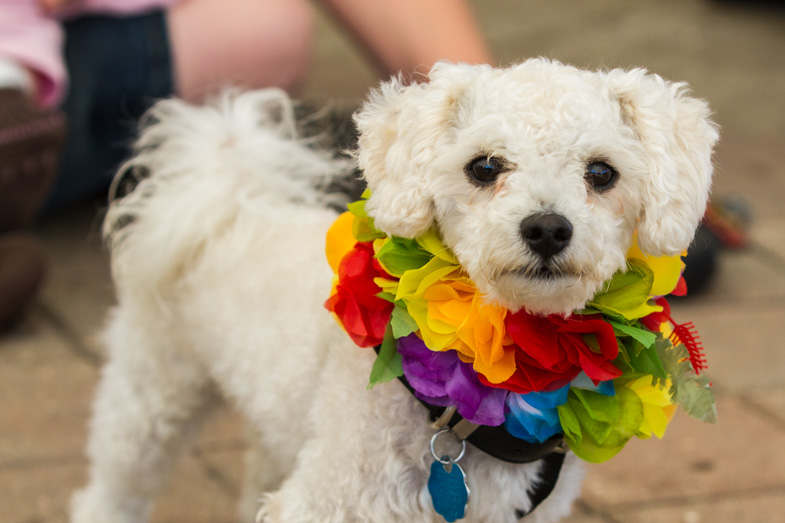 Everyone was in a rainbow kinda mood as Sault Pridefest 2014, the first of its kind in our area, wrapped on a high note Sunday afternoon.
Hundreds came out to enjoy the festivities of Loud and Proud hosted at the Bondar Pavilion by the Sault Pride Community.

The inclusive community celebration that featured 30 different vendors including artists, crafters, and community organizations and service providers, followed the Pride Walk which took local members and supporters of our LGBTQ citizens from the Canadian Bushplane Heritage Centre to the Roberta Bondar Pavilion

Special appearances during the afternoon celebration included Timothy Murphy and event emcee Gia Diamond.

Local musical talent was provided by Ryan Seabrook, Jake Rendell and the Pixo Control.

Families gathered to enjoy the games, activities and demonstrations set up in the children's area, and a variety of food and refreshments was offered by the Gnarly Bistro.

"I feel so, so humbled and I'm so appreciative of all the hard work that the other event organizers and volunteers have done for this weekend," event organizer Teddy Syrette told SooToday.com. "We're already talking about what we want to do for next year. We're going to grow on this because it's been three days of so many successful events."

The weekend-long festival incorporated a number of free events, including Friday's Rainbow Info Expo at Sault College and a dance party at the Primavera Hall; and Saturday's Pride Flag Raising celebration at City Hall, a children's story time at the Centennial Library, movie screenings at the Grand Theatre, and a Pub Night at Algoma's Water Tower Inn.

Syrette happily reported to us that all the planning committee's event attendance forecasts were either met or surpassed during Sault Pridefest 2014.
To see some video footage of Sunday's Loud and Proud event on Local2, please click here.

Anyone wishing to become involved in the local LGBTQ community, to discuss this past weekend's events, or to learn more about Sault Pride Community initiatives is invited to attend the monthly Sault Pride Coffee Night happening this Thursday, September 11 at Shabby Motley (356 Queen Street East).

The conversation begins at 7 p.m. and everyone is welcome to attend.

To keep up with everything Sault Pride Community, please click here.

Later this week on Saturday, September 13, Divas n Disguyz, Sydney Chablis and Gia Diamond are please to host Gawd Save the Queens at the Canadian Night Club, 410 Pim Street.

Special guests include Krystal Van Kartier, April Evanelista, and Motor City Drag King: Teddy.

Doors open at 8 p.m. with show time scheduled for 9 p.m.

Tickets, available at the Canadian Motor Hotel front desk, are $20 in advance or $25 at the door.