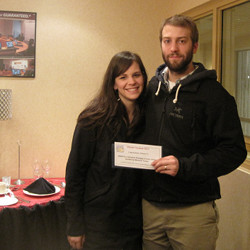 NEWS RELEASE
ALGOMA'S WATER TOWER INN & SUITES
*************************
The air simmered with nervous excitement last night as 2012 brides and grooms who held their wedding at The Pavilion at Algoma's Water Tower Inn & Suites convened in the Water Tower Pub to find out who would be the lucky winner of the 2012 Dream Wedding Vacation Contest.
Finally, the 5:30pm draw time arrived and KPMG's representative handed over the key to the certified and locked draw box.

After a few twirls of the draw drum, Gary Huckerby (Patchwork Productions) drew the lucky winners - a completely shocked Amanda and Mike Kreutzweiser.
"I've never won anything!" exclaimed Mike Kreutzweiser. He laughs: "I knew it had to be us, though, when the announcer struggled with the last name."

The couple, married June 9, 2012, aren't yet sure where they would like to use their $3000 gift certificate from Maritime Travel, but they are considering visiting the Rockies on their "second honeymoon".
"Lake Louise was Mike's first choice for our original honeymoon", says Amanda Kreutzweiser. "I really wanted to go to Jamaica, though, and in the end, that's what we did."

The drawing of the 2012 Dream Wedding Vacation Contest winners was equally exciting for the staff of Algoma's Water Tower Inn & Suites.
"That was so much fun," said Tracy White, Wedding Co-ordinator. "We've been talking about the contest for over a year now, and it was so awesome to finally get to do it."

The Pavilion will be running the Dream Wedding Vacation Contest again in 2013.
Newly engaged couples can learn more about the contest, as well as receive great tips and trends from industry experts at The Pavilion's Dream Wedding Showcase February 28, 2013.
The online signup form is now available on the Wedding Page found under the Meetings/Events/Weddings tab of the Inn's website:
www.watertowerinn.com
.
*************************