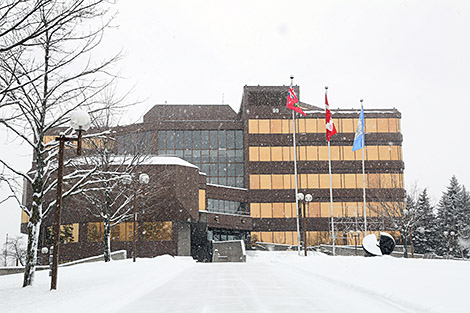 Sault Ste. Marie Mayor Christian Provenzano is a step closer to becoming a member of the Sault PUC board of directors.
Provenzano told SooToday in September if he was elected mayor October 27, he would seek a seat on the PUC board to monitor the utility's water quality improvement strategy.
After the new council's first official business meeting December 15, Provenzano was chosen to sit on the PUC board in 2015-2016 along with city councillors Marchy Bruni and Frank Fata, according to a list of council committee nominations provided by the city clerk.
Provenzano and each of the city's 12 councillors were named to several boards and committees during the closed portion of Monday night's council meeting.
Many city boards and committees also consist of nominated citizens. Those appointments have not yet been released.
Appointments to boards and committees made by council after the December 15 meeting must still be officially approved by council at its January 15 meeting.
Provenzano's appointment to the PUC board will be put before councillors January 15 as members of the Corporation of the City of Sault Ste. Marie, which is the PUC's sole shareholder.
The following information was provided to SooToday by Malcolm White, city clerk:
*************************
Summary of 2015-2016 council appointments to boards and committees
Christian Provenzano
Economic Development Corporation Board of Directors (Ex Officio)
Sault Ste. Marie Police Services Board
Federation of Northern Ontario Municipalities
P.U.C. Inc. Board of Directors
Ex Officio of all other committees
Code of Conduct Review Committee
Steve Butland
Environmental Initiatives Committee
Ontarians with Disabilities Accessibility Advisory Committee
Walk of Fame Selection Committee
Community Committee on Graffiti
Paul Christian
Christmas Lighting Award Judging Committee
District Social Services Administration Board
Noise By-law Review Committee
Signs By-law Review Committee
Susan Myers
Sault Ste. Marie Best for Kids Committee
Emergency Management Planning Committee
Environmental Initiatives Committee
Finance Committee
Municipal Handbook Committee
District Social Services Administration Board
Code of Conduct Review Committee
Community Committee on Graffiti
Noise By-law Review Committee
Terry Sheehan
Cultural Advisory Board
Dangerous Dog Committee
Environmental Initiatives Committee
Municipal Handbook Committee
Municipal Freedom of Information and Protection of Privacy Act (Head)
Algoma District Municipal Association
Judy Hupponen
Conferences and Major Special Events Funding Committee
Dangerous Dog Committee
Municipal Handbook Committee
Historic Sites Board
Municipal Freedom of Information and Protection of Privacy Act (Head)
Algoma District Municipal Association (Alternate)
Sault Ste. Marie Region Conservation Authority
District Social Services Administration Board
Humane Society
Matthew Shoemaker
Conferences and Major Special Events Funding Committee
Emergency Management Planning Committee
Finance Committee
Municipal Heritage Committee
Walk of Fame Selection Committee
Rick Niro
Christmas Lighting Award Judging Committee
Conferences and Major Special Events Funding Committee
Dangerous Dog Committee
Municipal Freedom of Information and Protection of Privacy Act (Head)
Parks and Recreation Advisory Committee
Algoma District Municipal Association
Municipal Day Care Review Committee
Lou Turco
Christmas Lighting Award Judging Committee
Municipal Freedom of Information and Protection of Privacy Act (Head)
Ontarians with Disabilities Accessibility Advisory Committee
District Social Services Administration Board
Association of Municipalities of Ontario
Marchy Bruni
Christmas Lighting Award Judging Committee
Conferences and Major Special Events Funding Committee
Finance Committee
Municipal Freedom of Information and Protection of Privacy Act (Head)
Algoma Public Health
Sault Ste. Marie Region Conservation Authority
District Social Services Administration Board
Sault Ste. Marie Police Services Board
P.U.C. Inc. Board of Directors
Code of Conduct Review Committee
Municipal Day Care Review Committee
Noise By-law Review Committee
Frank Fata
Christmas Lighting Award Judging Committee
Emergency Management Planning Committee
Finance Committee
Municipal Freedom of Information and Protection of Privacy Act (Head)
Walk of Fame Selection Committee
Celebrating International Friendship Committee Bridgewalk Group
P.U.C. Inc. Board of Directors
Code of Conduct Review Committee
Noise By-law Review Committee
Signs By-law Review Committee
Joe Krmpotich
Sault Ste. Marie Best for Kids Committee
Sault Ste. Marie Region Conservation Authority
District Social Services Administration Board
Ross Romano
Environmental Monitoring Committee (Landfill Site)
Finance Committee
Economic Development Corporation Board of Directors
Sault Ste. Marie Region Conservation Authority
Innovation Centre Board of Directors
*************************