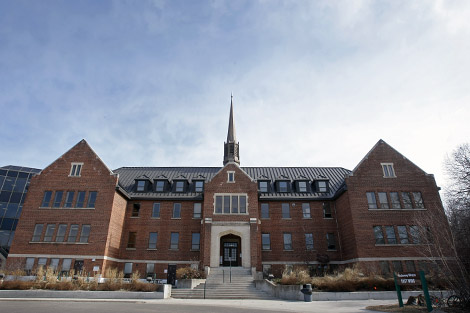 NEWS RELEASE
ALGOMA UNIVERSITY
*************************
Algoma University is pleased to announce that its "Small University, Big Education" viewbook has won a bronze medal in the 29th Annual Advertising Awards, sponsored by the Higher Education Marketing Report.
The Educational Advertising Awards is the largest educational advertising awards competition in the United States.
This year, nearly 2000 entries were received from over 1000 colleges, universities, and secondary schools from all 50 states and several foreign countries, including Canada.
Algoma University's promotional viewbook, used to help guide prospective students to making an informed choice about choosing a university, was entered into the contest by Zone 5, the University's marketing and design firm, located in Albany, New York.
"We are very pleased to see Algoma U medal at the Annual Advertising Awards," said Director of Marketing and Communications, Kevin Hemsworth. "Our viewbook showcases what Algoma U offers its prospective students by highlighting the benefits of attending a small university in a visually appealing way. We would like to thank Zone 5 for the nomination and their hard work in designing this important touch-point."
Judges for the Educational Advertising Awards consisted of a national panel of higher education marketers, advertising creative directors, marketing and advertising professionals, and the editorial board of the Higher Education Marketing Report.
Algoma University was one of four Ontario post-secondary institutions nominated for an award.
Brock University was the only other Ontario institution to receive a medal.
41 other post-secondary institutions were in the Student Viewbook category.
About Algoma University
Algoma University offers a wide variety of liberal arts and sciences degree options including programs in Psychology, Social Work, Computer Science, Business Administration, Fine Arts, Community Economic & Social Development, and Biology in Sault Ste. Marie, Brampton, Timmins and St. Thomas.
As a partner with Shingwauk Kinoomaage Gamig, Algoma U is committed to respecting Anishinaabe knowledge and culture.
Algoma University has launched its Essential Elements Campaign to expand its campus and offer more scholarships and awards to students. To learn more, visit www.algomau.ca.
*************************