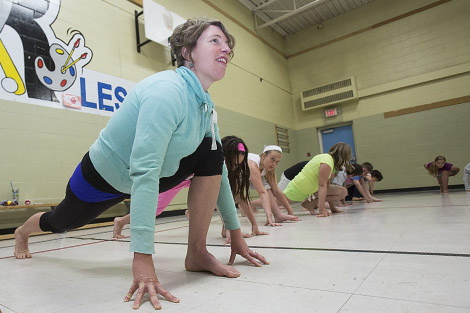 Multi-Olympian Clara Hughes will cycle into Sault Ste. Marie June 24 and at least one Rosedale Public School student hopes to meet her.

Hughes is travelling 12,000 kilometres across Canada by bicycle for Clara's Big Ride, raising funds and hoping to break stigmas that surround mental health in Canada.

Earlier this month, Avery McMillan asked party-goers at her Zumba-themed birthday party to donate to Clara's Big Ride instead of buying presents, raising $135 in the effort.

"I wanted to support what she was doing and thought it was really big and good for Canada," said McMillan, age 11.

Thinking she could do more, McMillan approached her fifth grade teacher at Rosedale to pitch the idea of a yoga fundraiser involving the entire school.

Nancy Neave heard about the plans and offered to help. She has been a certified yoga instructor for 10 years and teaches sixth grade just down the hall from McMillan.

"I've always wanted to teach it here in school," said Neave, who also teaches classes at Jade Wellness Studio on Queen Street. That happens to be where McMillan's birthday party was held earlier this month.

The fifth grader didn't realize that Neave was a yoga instructor, but is happy to have a common interest with the teacher.

"I'm hoping to have her next year," said McMillan.

Neave led one class at a time in a Sun Salutation posture on Thursday in the school's gymnasium, students who wanted to donate were asked to bring in money, which will stay in the community.

"We were able to contact Algoma Family Services and the Canadian Mental Health Association," said McMillan.

The fundraiser will move outdoors June 25, where the entire school will perform the posture. Clara Huges will be in the Sault on a rest day and McMillan hopes she will attend.
(PHOTO: Sixth grade teacher Nancy Neave leads grade five students at Rosedale Public School in the Sun Salutation yoga posture June 5, 2014. SooToday.com/Kenneth Armstrong)