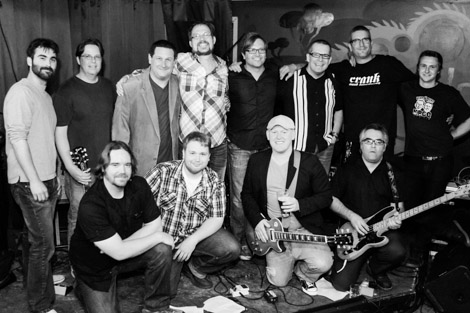 It was a bittersweet celebration last night at Loplops as a crew of local musicians gathered to bid a fond farewell to Sault drummer extraordinaire, Ed Young.

A teacher, multi-instrumentalist, songwriter, and all around sweet fella, Young's influence on the local music scene is deep and when he departs for P.E.I. in two weeks, a huge void will remain.

Last night's festivities included performances from the Warren Reville Band, Blues Harvest, Startlefish, the Chris Belsito Band, Big Suit, and Crank Shaft.

"Sault Ste. Marie was lucky to have Ed," said Chris Belsito. "He's always been a gentleman as well as an amazing drummer. I've loved working with him."

"The greatest thing about playing with a musician like Ed is he makes it easy because he's so talented," Mike Robillard, who played with Young in Startlefish, told us. "Your performance is actually heightened by him being present. All the gears turn a lot better when you have someone of his calibre playing with you."

"Ed is a consummate musician who has a skill level that you'd not expect to find in a places like Sault Ste. Marie," Craig West said.

West had the pleasure of teaming up with Young on a number of musical projects, including Startlefish, the Chris Belsito Band, and Trauma with Nick and Andy Jackson.

"He's been fantastic to work with in a variety of different formats. What Lon Chaney (the man of 1,000 faces) was to the silent film era, Ed has been to the music scene of the Sault - indispensable and defining it," West explained.

"Ed Young is what every professional musician should strive to be," Lindsay Pugh said. "I've always looked to Ed as a musician to emulate."

Young told us since his move back to Sault Ste. Marie in 1998, he's played with a total of 32 local bands.

"For a relatively isolated town, there's a ton of talent in the Sault," he said. "We're lucky to have venues like Loplops, the Water Tower and Coch's Corner. We're doubly lucky to have a public that comes out to support the variety of music here."

Not being a fan of winter, Young said he'll be happy to not have to endure the Sault's extended cold season, but he's sad to leave behind his family, fellow musicians, and the countless music students he's taught over the years.

Safe travels, Mr. Young.

P.E.I. is lucky to have you.