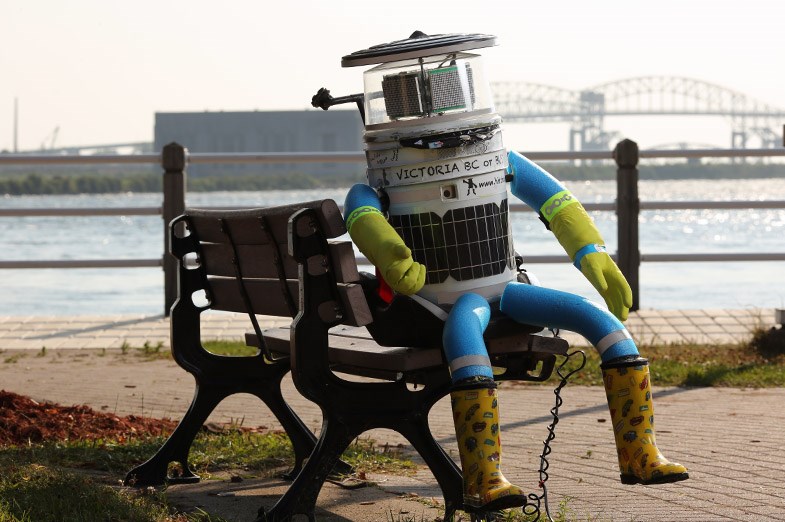 Sometimes a quirky story can go beyond local.
Way beyond.
In this case it was a series of photos taken by SooToday photojournalist Kenneth Armstrong of HitchBOT the hitchhiking robot as it made its way a few days ago through the Sault Ste. Marie area.
Kenneth's photos, which marked the halfway point in the rubber-boot-wearing robot's journey across Canada, were picked up by Reuters and quickly made their way to news publications around the world from the London, Ont. Free Press to the Times of South Africa.
Reuters included a shot of HitchBOT perched atop a rock cut alongside the Mile Hill in its Editor's Choice gallery that day, and the international newswire also featured the same photo on the cover of its Facebook page.
Photo editors from India, Switzerland and Spain also included Kenneth's shots in their daily galleries, and the story was odd enough to make NBC News's Weird News page.
HitchBOT is a joint project by professors at McMaster and Ryerson universities and when CBC Radio in Sudbury sought to tell its story, they contacted Kenneth yesterday to talk about his time with it.
As for HitchBOT's progress, cell data service is spotty north of Superior so it took a while for its location to be updated on the project's website, Hitchbot.me.
As of this morning, HitchBOT was just east of the Manitoba border, having passed through Thunder Bay.
If you're interested in what the diminutive bot has on its mind, check out an interview I conducted in the LOCAL2 studio while it was in town.