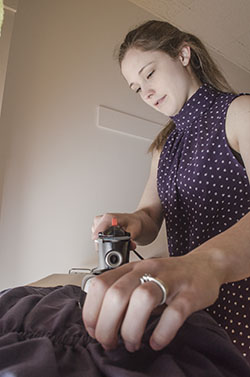 Marissa Fragomeni is a new face to the downtown core.
Her new store Atrebla is setting up at 474 Queen Street, just across from the March Street stage.
Marissa is offering something that is not easy to find here in the Sault - all of the clothing that's being sold at her store is handmade by Frogomeni herself.
Driven by a love of fashion, Fragomeni said she decided to take the plunge and open up her own business.
She said she is committed to supporting local and is invested in the Sault community.
While some of the clothes are available for sale, the actual clothing line is still in development and expanding.
Marissa has other services to offer including both custom creations and alterations.
"You're more comfortable in something if you know it fits just right. If you know it's a little loose here, a little tight there, you become self conscious," said Fragomeni.
"I design everything and make it all myself, so they are different from what you would find in other stores."
Marissa focuses on women's clothing offering a new look to young female professionals.
Custom garments and altered clothing is another way of guaranteeing the right fit for anyone who has trouble with department store clothes.
The store opens Friday with the first 20 customers receiving 10 percent off coupons.
Regular hours for the store are Monday to Friday: 10 a.m. to 5:30 p.m., and Saturday 10 a.m. to 5 p.m.
For more information on Atrebla check out their Facebook page.
(PHOTO: Marissa Fragomeni is pictured working at her Queen Street shop on Thursday. SooToday.com/Brad Jones)