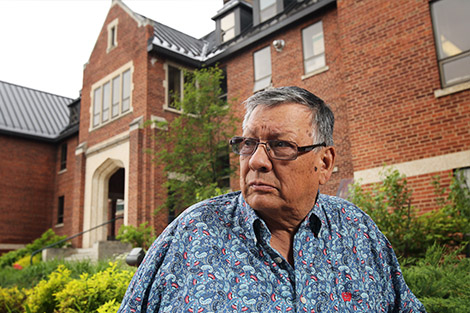 Justice Paul M. Perell of the Ontario Superior Court ruled Thursday that the individual testimonies of 40,000 Indian residential school survivors will be destroyed after 15 years, unless a survivor chooses to preserve their story in a national archive.
The ruling states those survivors who want their stories of abuse they suffered in the residential school system may have them stored at the National Research Centre for Truth and Reconciliation (housed in Winnipeg at the University of Manitoba) if they wish, after the 15-year timeframe has passed.
They will have their stories redacted (edited by replacing a survivor's full name with his or her initials, for example) to protect the privacy of others.
"If they can go through the process and reach everyone (every survivor who has shared his or her story of abuse in the residential school system with government officials), this would be the first time the survivors have direct input as to what's happening, because before now these decisions were made by lawyers," said Mike Cachagee, a residential school survivor who now serves as a health support worker with the Children of Shingwauk Alumni Association.
It is anticipated a program will be established, one which will contact survivors and advise them of their choice to have the documents destroyed or preserved.
It is good for survivors to have a choice, Cachagee told SooToday.com, because the testimony shared by survivors at Independent Assessment Process (IAP) hearings are graphic, and survivors may not wish to have them stored in archives.
In spite of the element of choice in regards to privacy, Cachagee said he hopes not too many residential school survivors opt to have their testimonies destroyed after 15 years have passed.
IAP hearings last for a day or two and are emotionally devastating, as compared to half-hour appearances at Truth and Reconciliation hearings, Cachagee said.
"Those IAP hearings are a history of what went on in those residential schools, they're the most devastating and ugliest stories of what happened at those residential schools, at Shingwauk and other schools across the country," Cachagee said.
"It's a legacy of child abuse…meant to enlighten Canadians that this is a blot on Canadian history."
"My thought was all testimonies given would go directly into the archives…the survivors should know their records might be gone after 15 years, when maybe some of them may have wanted their stories kept at the archives," Cachagee said.
Cachagee said history might be manipulated and minimized if many survivors choose to have their testimonies destroyed after 15 years.
"If there have been 200 cases of abuse at a residential school, and the details of many cases are lost, people may think 'it couldn't have been that bad,'" Cachagee said.
An estimated 30 survivors of the former Shingwauk residential school have given their testimonies, Cachagee said.
"I have no problem with my testimony being put into the archives at the National Research Centre for Truth and Reconciliation…it's a part of Canadian history," Cachagee said.
Cachagee said he suffered abuse while at Shingwauk from 1952 to 1957.
The process of addressing the residential school story has consisted of five stages, Cachagee said.
First came compensation from the federal government, known as the common experience payment to each survivor ($10,000 each, though Cachagee said he is not certain if every survivor has received compensation).
Then came the historic apology to residential school survivors by Prime Minister Stephen Harper on behalf of the Canadian government in the House of Commons in 2008.
This was followed by the painful sharing of testimony from residential school survivors through IAPs (which consist of a lawyer representing the survivor, a federal government official, a church official and support workers), then appearances before the Indian Residential Schools Truth and Reconciliation Commission.
The final step was the establishment of the National Research Centre for Truth and Reconciliation at the University of Manitoba.
(FILE PHOTO: Mike Cachagee, a residential school survivor and current health support worker with the Children of Shingwauk Alumni Association. SooToday.com/Kenneth Armstrong)