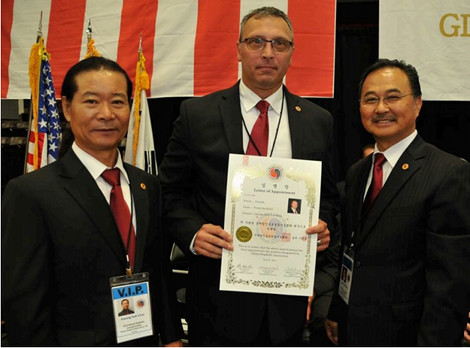 NEWS RELEASE
GLOBAL HAP KI DO ASSOCIATION
*************************
One of Global Hap Ki Do Association (GHA) greatest event took place in Kalamazoo, Michigan, U.S.A. at the well-known Wings Stadium.
The greatest event was the 2014 Global Hap Ki Do Championship which attracted several counties across the globe.
The 2014 Global Hap Ki Do Championship is an International championship that had many countries attend such as Australia, Austria, Azerbaijan, Brazil, Canada, Mexico, Russian, Italy, Morocco, and many others.
We were honored to have renowned guests also be there at the championship such as Director and Producer Tommy Chang, Actor Emerson Wong and the stunt man Joe Egio. Of course, Canada had a great representation at this year's championship, taking home many gold, silver, and bronze medals.
The best part of the 2014 Global HapKiDo Championship was when Grand Master Frank Sacchetta of Sault Ste. Marie, Canada, was appointed President of Global Hap Ki Do in Canada.
This is an honorable title to have through such a large International organization as GHA.
As you may know, GHA has partnered with International Hapkido Federation (IHF) which is one of the largest international Hap Ki Do organizations that is even recognized by South Korea Federal government.
Many Hap Ki Do schools are affiliated with small national organizations such as Moo Moo Kwan. But in the case of Grand Master Sacchetta, he is part of an International organization that provides internationally recognized certificates. Furthermore, GHA has headquarters in many countries around the globe including Canada.
We are proud and honored to have Grand Master Sacchetta accept his appointment as President of GHA Canada.
We welcome a man of honesty and such high caliber as Grand Master Sacchetta in an International leadership role.
*************************