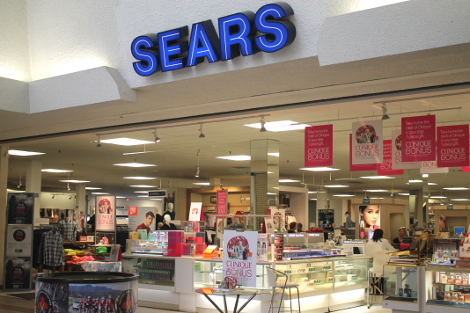 Sears Canada announced Wednesday that the retailer has slashed 624 jobs from its 181 corporate stores across the country.
Those cuts take effect immediately, and include five jobs at the local Sears store in Station Mall.
Those who work on the floor in middle management (department heads) at the local Sears store in Station Mall and at Sears stores nationwide are the latest to bear the brunt of ongoing corporate restructuring by the retailer.
Sears Canada Corporate Communications spokesperson Alicia Richler told SooToday.com early Wednesday evening: "All of our department stores across the country would have been affected today (Wednesday January 29)."
"(The people who lost their jobs) would have been mid-tier department leads," Richler said.
"On average five associates per store would have been laid off, but I don't have specific numbers for Sault Ste. Marie."
A source told SooToday.com, however, that five employees in various departments were indeed laid off from the Sault outlet Wednesday.
The local Sears store has about 140 employees, full-time and part-time.
Richler told us the latest corporate move means more responsibility for those department heads that are left.
"That person who is the menswear department manager may also now be the shoe department manager as well…a lot of the management may be taking on more departments that they oversee."
When asked if the cuts were necessary because of the considerable dent online shopping has made in the retail sector, Richler said the cuts were made in order to make Sears operations "more streamlined and efficient."
However, Richler said: "One of the major investments Sears is making this year is investment in online shopping at Sears."
"There's more to a successful business than just the traditional store (and) there will continue to be investment in Sears online business," Richler added.
The full text of a news release from Sears Canada Inc. follows
*************************
TORONTO - Sears Canada Inc. (TSX: SCC) announced today that it is modifying its store structure to improve efficiency and increase the effectiveness of the chain of communication between management and the store associate teams within the stores.
The Company will eliminate primarily a mid-tier level of leads within its full-line stores, resulting in an average reduction of five associates per store.
There will also be an alignment of the regional and head office structures to reflect the new store model, and also to improve efficiency in Sears other formats and to align with the size of the business.
This will result in a staff reduction of 624 associates.
"The changes we are making in stores will not affect the number of front-line associates, and service to our customers will not be impacted," said Doug Campbell, President and Chief Executive Officer, Sears Canada Inc.
"Our current structure results in inefficiencies and barriers to effective communication among store associates and the changes we are making are designed to result in better store execution and consistency of presentation and standards. We continue to plan for the future of Sears Canada and are taking steps today that will allow us to continue serving customers as a viable national retailer coast to coast in stores and through our Direct channel now and in the future."
Sears Canada is a multi-channel retailer with a network that includes 181 corporate stores, 241 Hometown stores, over 1,400 catalogue and online merchandise pick-up locations, 101 Sears Travel offices and a nationwide repair and service network. The Company also publishes Canada's most extensive general merchandise catalogue and offers shopping online at www.sears.ca.
Although the Company believes that the forward-looking information presented with respect to its staffing initiative is reasonable, such forward-looking information involves known and unknown risks, uncertainties and other factors which may cause actual results, performance or achievements to be materially different from any future results, performance or achievements expressed or implied by the forward-looking information, and undue reliance should not be placed on such information.
The forward-looking statements in this release are made as of the date hereof.
The Company does not undertake any obligation to update publicly or to revise any forward-looking information, whether as a result of new information, future events or otherwise, except as required by law.
*************************